In my post last Saturday about my latest podcast, I slipped in that I was going to take a break from the T-Shirt quilt. I intended to fold it up neatly and hang it in my closet along with my other WIP's but it never made it. I did fold it up neatly but then it sat in front of the TV, taunting me with comments such as, "You're going to let pieces of fabric beat you?" and "Susan....get your butt in gear and finish me, I want to be finished!". I listened: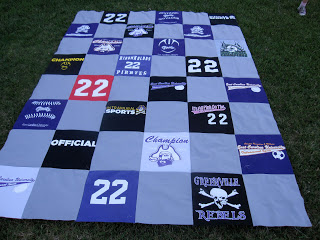 T-Shirt Quilt 96 x 71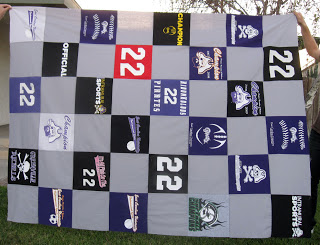 Why not a sideways shot?
After some helpful motivation and advice from my quilting buddy Zina, I decided to finish this quilt top up. We were both working on projects which we were dreading so we kind of goaded each other into getting those things done so we could feel better. As for the advice, she suggested using the walking foot for piecing as sewing the Kona Cotton to the interfacing backed jersey fabric was making me crazy. The fabrics didn't like each other and were bunching up - by switching to the walking foot my problem was solved.
Other Projects in Production: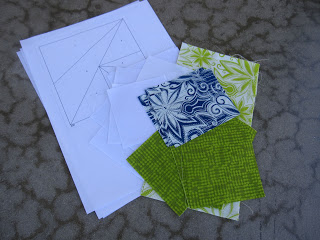 Block 11 of Sew Happy Quilt QAL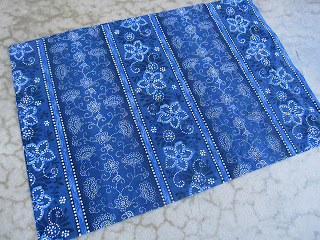 Yoga Mat Bag fabric washed, cut and ready to go
Lastly,
I made the Chopped Salad with Bacon and Fried Garbanzo Bean recipe that Debbie from
A Quilter's Table
showcased yesterday on her blog. Let me say that fried Garbanzo Beans are amazing - crunchy, creamy, salty and spicy - wonderfulness all wrapped up in a tiny package. Try them!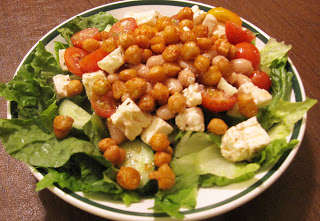 Chopped Salad with Bacon and Fried Garbanzo Beans
I'm linking up (a little late...busy at school) to
WIP Wednesday
with Lee from Freshly Pieced today. Please go visit and see what she's been working on - you must see her New York Beauty QA quilt block.- stunning!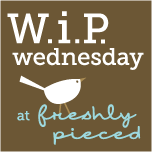 Did you know it was National French Bread Day?
Susan