Although I showed this to you yesterday, here is my grand finale post shouting out to the world that I've finished a quilt!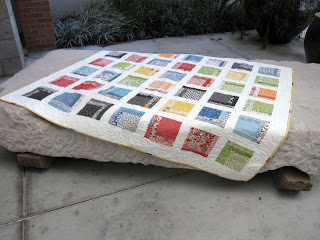 School Yard
The Details:
School Yard
Pattern: Square One from
Simplify with Camille Roskelley: Quilts for the Modern Home
.
Fabric:
Punctuation by American Jane for Moda Fabrics
- top, back & binding. Sashing on top is Snow Bella Solids.
Size: 61" x 53"
Pieced and bound by me
Quilted by: Karen Kimmel - a long arm quilter from my guild who brought life to this quilt.
Started: January 2011
Finished: Sunday, February 25, 2012
Who is it for: Initially this quilt top had no intended recipient, but sometime in the middle of last year I participated in a Crafty Pay-It-Forward Challenge on Facebook and a lovely Kindergarten teacher friend of mine played along. So School Yard is for her and it will go perfectly in the decor of her house.
Here are a few more photos:
What else am I working on:
The T-Shirt Quilt - plan to post T-Shirt Chronicles Part III by the weekend.
Sew Happy Quilt QAL - a week behind...need to catch up.
Mug Rugs - yesterday in class I doodled a bit and designed a thank you mug rugs for various friends & family who've been very supportive this past three weeks.
I'm linking up with Lee from Freshly Pieced for
WIP Wednesday
and Jenna from Sew Happy Geek for
Manic Monday
.
Happy Leap Year Day - hope you have a fun and productive day,
Susan