Who? Huh? Marcella Hazan. She is an Italian cook who lives in Venice along side a canal (is that super cool or what?) who has published my favorite cookbook. **scratch the "lives" part - she apparently now lives in Florida**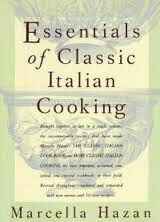 This cookbook speaks to me. I have never heard her speak before but I have this imagined voice speaking to me whenever I read her recipes. Sounds kinda dumb but I am such a audible person (admitted NPR and various podcast junkie here) and imagining her voice as I read her recipes maybe makes the food taste better? Who knows.
I have made from this cookbook: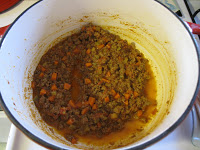 Bolognese sauce from last night
The previously mentioned Mantovana or
Olive Oil Bread
, Pasta Bolognese, Tuna Sauce with Tomatoes and Garlic, "Aio e Oio" - Roman Garlic and Oil Sauce, Tomato Sauce with Heavy Cream, the absolutely mind blowing Tomato Sauce with Onion and Butter and more. Every recipe is dead on and as I flip through it right now to find those pages which are stained with use I realize that I need to explore more.
I wish that I had been an adult in the 70's as I may have traveled to Italy to be a part of the cooking school Marcella had in her home. Sadly, it looks as if she no longer holds classes but her son does. Just did a quick check of his website and found that a week of cooking classes at his amazing looking villa in Verona is about $5,000 and I don't think that includes airfare. Yikes. Last trip my husband, two sons and I took to Europe we spent about double that but that included airfare/Eurailpass + three weeks of travel. Oh, I better not go down that road...I'll go off on travel. Oh, I love travel. Just for fun here is a picture from our last trip:
Baptistry - Firenze, Italia
That is the husband and I with our backpacks on stopping for a quick shot at about 7am on our way to the train station in Florence to catch a train. I remember just before this shot we were walking behind a gal who was wearing stiletto heels - if she were Italian I would not have had another thought but she was obvious a tourist and had no idea how to walk in Florence on those cobblestone pavers with stiletto heels on. What a memory!
Today I must craft - my sewing machine and fabric keep calling out to me. Quilted coasters maybe?
Ciao!