I kind of complained to the husband back in January that our house was looking a bit shabby. He misunderstood and thought I meant the outside painting of the house and offered the paint the house...no, no I said, I meant the inside.
Especially the rooms we spend the majority of our time - the cave like kitchen that I inhabit for hours a day and the tiny 1950's cookie cutter tract home living/family room.
So then then husband offers to paint the kitchen. He was serious and I was practically jumping up and down like a 10 year old girl. My kitchen has been stark white for the fourteen years we have lived in this house. When we bought this home my oldest child was six months old and I was not "allowed" to be a part of a decision making process regarding painting. Let me explain....mother-n-law was involved. Do I need to say more?
So this is what we had: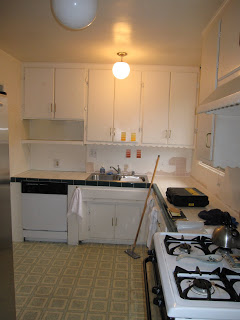 So, fourteen years later + nine months I now have a half painted kitchen. Love the husband very much but he is so SLOW.
But now I have this: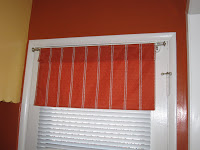 Valence made from Anna Maria Horner Voile fabric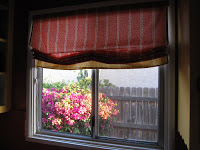 Roman Shade also made from Anna Maria Horner Voile fabric


Just Added: Forgot to mention the curtains in my post that I referred to in the title! I made these a few weeks ago and the husband finally put up this past weekend. The Valence was not a pattern, just a 1/2 yard of the fabric sewn together so the white lines match up. The roman shade was a tutorial I found online here which I thought was very good. The voile fabric I used is so thin that it doesn't bunch up as much as regular cotton or thicker fabrics would, but I do not care. I love the look and every morning since this was put up, I draw up the roman shade a different way.
Yellow cabinets/Paprika walls
I was going for a Tuscan look as the husband and I enjoy the Old World style of decorating (have to clarify that as we are not much into decorating). When I sent this photo to a cousin of mine she remarked that it looked like Paprika and she is right. I love it though. This room is quite small and because it is practically unseen from any other room in the house I knew that I could go bold.
The husband still has two more doors to put up on the upper cabinets and oh, don't get me started on the lower cabinets. I'll be lucky if it is done by Christmas....in 2011.
Now going to go clean my half painted kitchen and start making Bolognese sauce for dinner. YUM!


Ciao!