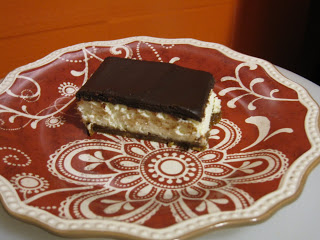 Cheesecake Bars
I have been following the Bakerella blog for about a year now and up until I became a fan on FB, had never attempted to make anything that she made. About a month ago she posted about Cheesecake Bars which looked so good that I decided to make them. They were just wonderful. Biscoff cookie layer on the bottom, the perfect cheesiness in the middle and a nice slab of ganache on the top. I cut most of them up in about 3x4inch rectangles but the most popular size were about 1x1 as you could just pop them in your mouth for a very quick and satisfying treat. This recipe is a keeper!
A little more on Bakerella - her first cookbook has just been published. It is called Cake Pops and I dove right in last week and tried the first recipe.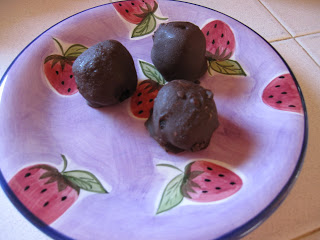 Cake Balls
I hunted around at a few stores for the sticks that are required to make these cake "pops" but was unsuccessful so these just became cake balls. The three in the photo above are the last three from a recipe of 48 that my family almost devoured in a few days. My boys were hovering just outside of this photo waiting for me to finish so they could finish them off. I love Ding Dongs and the crack that the chocolate makes when you bite into the outer shell of these cake balls is almost like biting into a Ding Dong. Check out the Bakerella site for the recipe and tutorial and if you are so inclined, get her new cookbook. A little tip: I used food service clear plastic gloves that I bought at Smart & Final when I crumbled the cake and when I shaped the balls. Much easier than washing/drying my hands often and the cake/frosting mixture does not stick to the gloves.
I'm off to the library for a day of reading for class, Ciao!