when you are supposed to be enjoying the ambiance and the environment around you...but you are so focused in on one thing? I just had a great lunch at
Border Grill
in Santa Monica and did I taste the food? Yes and No. It was really good and I'll go back again but I had such a good time that I barely remember what I ate.
Just had to get that out there into the world.
Have you all seen Parenthood from 1989? I never seek it out to specifically watch but if I see it playing on TV I will sit down and watch it for awhile. There is one line that has been especially resonating with me lately: Karen (Mary Steenburgen) replies to her husband Gil (Steve Martin) "Well I happen to LIKE the roller coaster, okay?" Karen is responding to the story that Grandma told...check it out
here
. I too like the roller coaster of life where things can be scary and equally thrilling at the same time. I never liked the Merry Go Round either.
I whipped this mug rug out last Friday morning for a special friend for her birthday. She loves going to "tea" and so I went for a traditional/modern twist. I'm getting much better at machine sewing the binding on, starting on the back.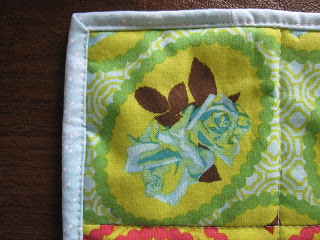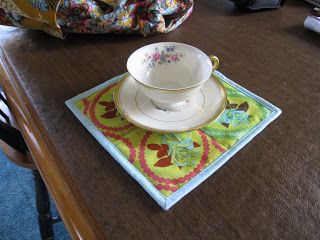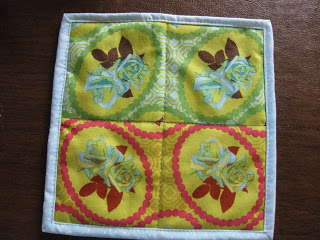 I used some scrap Anna Maria Horner fabric for the front and back and a almost perfect match for the binding from Joann's.
Can't stop tripping over Supernova quilt tops popping up all over blogs. I seriously dig the design and am really stretching my sewing/design skills with this quilt.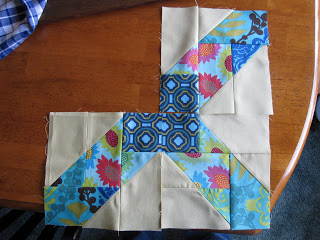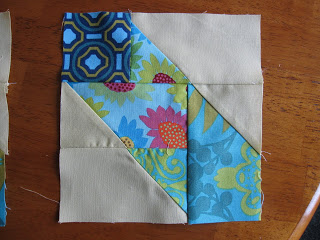 I'm using Kona Celery as the solid fabric and am very happy with the results so far. Not a whole lot of sewing to be going on around here in the near future as I've got a pile of homework, a big family dinner I'm hosting on Saturday and Spring Break for my boys next week.
Ciao!