I really enjoy entertaining people in my home and being that I am usually the one to motivate both sides of the family to get together, holiday entertaining usually happens here. When I was growing up, my parents belonged to a couple of neighborhood Bridge (card game) groups which met once a month and I remember fondly how much fun it was when those groups came to our house. My mother would let me help her set up the card tables, lay out just the right tablecloths and decorate each table with special bowls filled with Nuts, some kind of Mint that tasted like toothpaste
(ick)
and M&M's. My little brother (Scott) and I would enjoy sneaking a few of those M&M's.
When the guests arrived Scott and I were allowed to visit for just a short while and then we had to retreat to the upstairs but inevitably I would creep down the hall and stand in just the perfect spot to where I was unseen but could see what was going on. I just realized that I never asked if my mother knew I was there.
Today in my home I will be hosting my father plus my in-laws and numerous others from the husband's side of the family for an early Easter Dinner. It's a fun group and everyone mixes together very well. Setting a table, planning and preparing the food and then mingling with guests are all things that my mother enjoyed and she definitely passed them along to me. It gives me great pleasure to feed the people that I care about.
Table: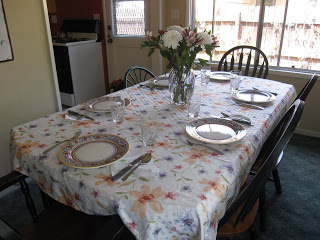 Eight hours later, the table is back to it's normal size, the dishwasher is running and I'm tired but the early holiday meal was a big success as my guests left with good food in their stomach's and great stories in their memories. One of my guests had just returned from Egypt and Jordan so we all enjoyed the stories of their travels.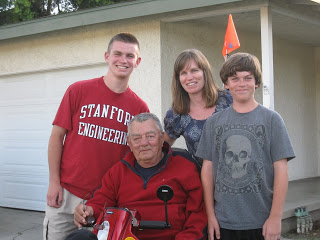 J, my crazy dad (would not stop elbowing A), me and A
Happy Easter everyone and hope that you get to see your family during this special time.
Susan