The last ten days: work + school + life = no crafting therefore no blogging.
Today: lots of free time = crafting and blogging. Yea! So I sewed up two new pouches - one for me and one for a friend who is going on a little vacation.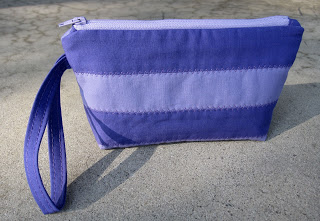 For a friend
Could not resist
Going Coastal
fabric in a local fabric store (M&L) yesterday. Wanted to make myself up a new pouch and walked around and around looking for the perfect fabric. Could not believe it when I spied this as I have almost bought it online many times. Lining is
Hullabaloo by Urban Chicks
from the Dots Swap hosted by Debbie from
A Quilter's Table
earlier this year.
Love it Debbie!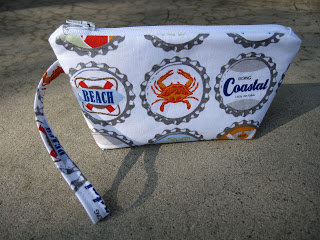 For me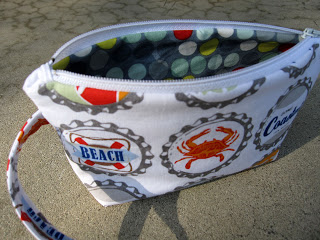 Works in Progress:
T-Shirt Quilt - earlier this week I was ready to start stitching up the t-shirt quilt. The t-shirt blocks were squared up and ready to go and I decided to go through the solid Kona Light Grey fabric just to make sure those were squared up as well. Well....they were
NOT
. I had cut the Kona squares while I was sitting on the floor - big mistake. (If you are a Stash Resolution Podcast listener - my title is respectfully taken from one of her segments in her show.) All of the Kona squares are at least 1/2 inch off. What the heck was I doing that night while cutting? Must have been a rare night that I was actually watching what was on TV. That project is back on hold until I have time to go buy more fabric.
Quilt for my best bud - Minimal cutting and no sewing. Her birthday is coming soon so this needs to be first on my list for next week.
Latte Quilt update: My quilt top has now been quilted by Nena of Nena's Quilt Shack and is now in Houston, TX! I pulled this photo off the FB account Nena. You can see the binding she sewed on the front.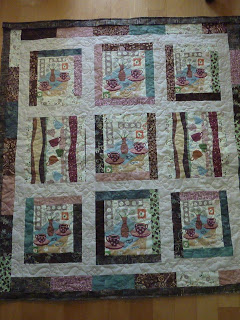 Latte Quilt
I'm so anxious to see photos of the Latte Quilt up in the
Hoffman Fabric's
booth at Quilt Market.
Please visit Lee at
Freshly Pieced
to see what others are working on this week.
Have a super fun Wednesday evening - wherever you are.
Susan