Earlier in October I posted a finished photo of Supernova to my Facebook account just for fun. I received great comments and congratulations on the finish from my friends and family but then was completely surprised by a comment from an old friend who works for
Hoffman Fabrics
. She asked if I would be interested in working on projects for Hoffman and if so would I come down to their headquarters to meet with them.
It could have stopped right there and I would have been fulfilled. Seriously. I felt so validated that my friend had thought enough of a photo on Facebook to ask me to work on projects for them. Of course I said yes.
Last week I visited their headquarters in Mission Viejo, CA and had a tour of their warehouse full of fabrics - oh my goodness what a treasure trove of fabric. I had no idea how gorgeous batik fabrics really were as I had not had any previous introduction to them. As we walked by bolts and bolts of fabrics I kept thinking to myself how various fabrics could be made into skirts, bags and of course, quilts. I was in heaven.
After viewing different "color stories" of fabrics, we chose a mixture of batiks and screen prints for me to make them a quilt
*drumroll please*
for them to take to Quilt Market. They are going to take my quilt and use it in their display for Quilt Market at the end of this month. Well...first they have to like what I made: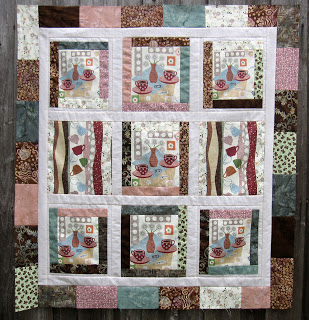 Latte Quilt for Hoffman Fabrics
So what do you think? I did not use a formal pattern but just took elements from what I see on blogs all the time to come up with a way to focus on the Hoffman screen prints with the batiks providing a highlight and frame.
While finishing up the Latte Quilt this morning I made Nutella Scones.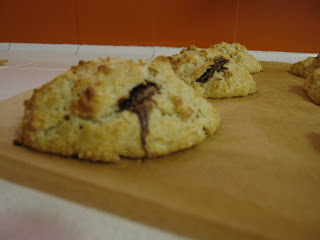 Nutella Scones
Nutella Scones
2 cups all purpose flour
1/3 cup (packed) golden brown sugar
1 tablespoon baking powder
3/4 teaspoon salt
1 stick (1/2 cup) unsalted butter, chilled and cubed
1/2 cup whipping cream
1/4 cup milk
1 large egg
Jar of Nutella
Preheat oven to 400F. Sift dry ingredients into medium sized bowl. Add in chilled butter and mix in with a pastry blender until a coarse meal forms. In a small bowl mix together the cream, milk and egg. Add wet mixture to dry mixture until moist clumps are formed. You may need to add a bit more milk if the dough is too dry. Use large spoons to place about 1/4 cup of dough on parchment paper lined cookie sheet, spacing them apart. Use those spoons to make an indentation inside the dough ball. Use two different spoons to add about a teaspoon (or more if you like!) of Nutella into each of the scones. Then go back to the dough and add enough to the top to envelope the Nutella. Bake scones until golden brown about 15 minutes. They freeze very well : Place them on a cookie sheet UNWRAPPED in the freezer. About an hour later come back and wrap each of the frozen scones up airtight. Leave out on the counter for 30 minutes to thaw.
I'm off to school ~ have a wonderful Tuesday,
Susan