Forget about St. Patrick's Day, it's National Quilting Day! Oh I jest...just pulling your leg about forgetting about St. Patrick's Day - cause I'm 1/2 Irish! I'll be attending a St. Patrick's Day Block Party tonight and am looking forward to a great time with my wonderful neighbors. I need to bring an appetizer so I think I'll make a crab/cheese dip my mother used to make - it's served hot so I'll bring it in my little fondue pot.
Yesterday I recorded my latest podcast (Episode 23) about Two Color Quilts, a topic suggested to me by my fellow quilting podcaster, Daisy of
Lazy Daisy Quilts
. Thank you Daisy!
Food:
I talked about making Italian Sausage and zucchini pasta from Sunset Magazine. You can find the recipe
here
. Very light and super flavorful. Easily adapted with more vegetables or a different pasta.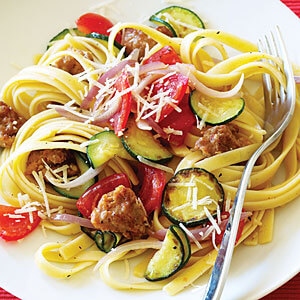 Italian sausage and zucchini pasta from Sunset Magazine
What I am working on:
The T-Shirt Quilt and I are taking a little break from each other. Although I did not speak of that in the podcast, I looked at it last night as I was taking it off my bed and decided that I should be working on fun things right now. I'll be back at work on the Sew Happy Quilt today in honor of National Quilting Day. Go check out Sandy's blog at
Quilting...for the rest of us
as she is hosting a Giveaway in honor of today's festivities.
Two Color Quilts:
Here is the HGTV link to the Simply Quilts segment hosted by Alex Anderson called Two-Color Quilt Show. It's a six minute segment about an exhibit at the
San Jose Museum of Quilts and Textiles
called Take 2: Quilts in Two Colors. Check it out
here
.
Here's a link to a very modern black & white quilt called Vortex in Variation by Nora Ronningen. Her mother blogged at
Collector With A Needle
about the experience of having her daughter's quilt shown at the International Quilt Market in Houston last year.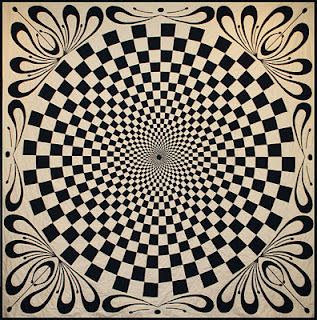 Vortex in Variation by Nora Ronningen
Here is the PR flyer for the Infinite Variety: Three Centuries of Red and White Quilts show that was hosted by the
American Folk Art Museum
in March of 2011. They even have a free iPhone App to view all 651 Red & White Quilts in the exhibit. Check it out
here
.
Martha Stewart blogged about the Infinite Variety show
here
and has numerous photos.
Here is the Green & White Modified Bento Box quilt which is made by Anya who blogs at
Hills Creek Quilter
. I just love how she used different shades of green. She blogged about it
here
.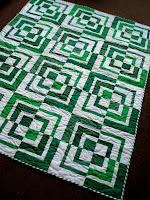 Time for me to make breakfast for the masses...it's definitely a pancake morning and mine will have more blueberries than pancake batter. hehe
Take care, stay safe and have fun.
Susan