I love hot fudge sundaes: A scoop or two of vanilla ice cream, hot fudge, nuts, whipped cream and yes, the cherry. My favorite part is the combination of the vanilla ice cream wedded with the hot fudge - love the contrast as it seems to bring out the chocolaty hot fudge flavor even more. After I began reading labels on cans/jars years ago I stopped purchasing favorite items such as hot fudge sauce and began making it myself.
I've tried various hot fudge/chocolate sauce recipes over the years and have settled on this simple chocolate ganache recipe which I can whip up in about three minutes with the aid of my microwave and careful/patient stirring.
Three minute Chocolate Ganache
about 3/4 cup Semi-Sweet Chocolate Chips (use any kind you like)
1/2 cup Heavy Whipping Cream
Microwave safe bowl (I use a 6 oz ramekin - holds about 3/4 cup)
I start with the chocolate chips in the bowl: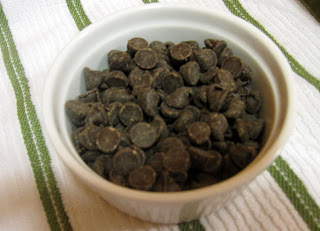 Then add in the cream just to about the height of the chocolate chips: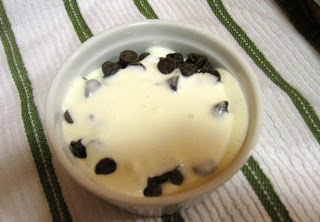 Then put in your microwave for 1 minute - it will look like this when it comes out:
Let that sit about a minute to let the hot cream do it's magic on the chocolate chips, then begin stirring - slowly. It will seem like it will never emulsify together but trust me, it will.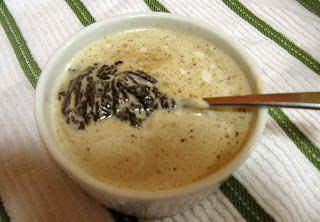 After about 30 seconds it will look like this: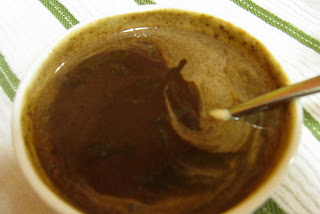 Almost there...
And at about the one minute mark of stirring you should have a glossy unctuous looking Chocolate Ganache, just waiting for me to put on my vanilla ice cream: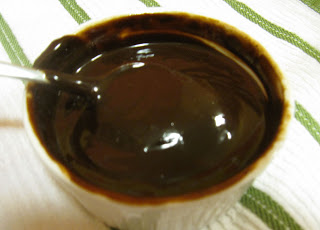 Nope not for me...have about five weeks to go before I can enjoy this treat. Instead the rest of the house enjoyed this: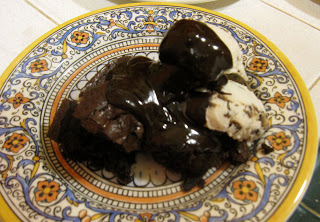 Brownie Sundae
What's nice about the Chocolate Ganache is that whatever is left can go in the fridge and can be heated up for another day.
I'm linking up with Debbie from A Quilter's Table today for her
Tuesday at the Table
Feature - love her new button!

Enjoy your Tuesday,
Susan