If you are looking for my Sew Mama Sew Giveaway Day giveaway, please go here. The giveaway will be open until Friday, May 25th at 5pm Pacific Time.
I love my local Farmers' Market. A ten minute drive toward the ocean on a Sunday morning leads me to Alamitos Bay Marina where the market is held. With fabric shopping bags in hand and my hat on my head, I enjoy walking through the long row of vendors who sell fresh vegetables, fruits, honey, bread, cheeses, bison meat, fish and gorgeous cut flowers. It is such a pleasure to walk through and greet/chat with the vendors, try their samples (so fun to taste something new) and visit with friends that I run into. I always leave with strawberries, various greens, flatbread & humus (never miss this booth - they sell 10 different kinds of humus and all are spectacular), and then add in whatever is fresh, depending upon the season and what inspiration comes to mind.
This past Sunday Bing Cherries made their debut and boy was it a big one. Numerous fruit vendors had them this week and what a wonderful pop of color they added to the market. Of course I couldn't resist and added them to my fabric bag.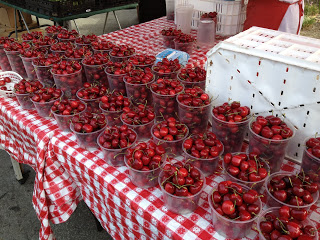 Fresh Bing Cherries
I have no formal recipe for you in regards to these wonderful Bing Cherries as I think they are best eaten straight out of a bowl while sitting on the front porch watching the wonders of life. Yesterday afternoon I had the pleasure of doing just that while watching my neighbor girls playing and having fun.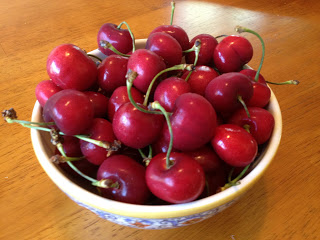 Do you have a local Farmers' Market that you attend? Is there something in season right now that you are enjoying? Please share!
I'm linking up with Debbie from A Quilter's Table with her
Tuesday at the Table
feature.
Exciting News!
Debbie is hosting Tuesday at the Summer Table in June and I will definitely be participating all month long. Please visit her today to learn all about it and please, play along!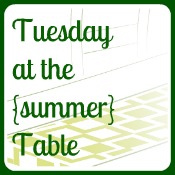 Enjoy your Tuesday!
Susan