I need your help - I've got twelve blocks from the
Sew Happy Geek QAL
that I finished up a few months back that I want to sew together into a quilt. I was out shopping yesterday and brought the blocks with me to see how they looked with various Kona colors in the quilt shop. I choose to go in the green direction instead of blue as I think it balances out the blocks better. What do you think?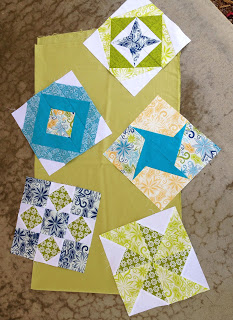 I ventured out into the garden today to deep soak my tomatoes and do a bit of weeding/trimming and came away with a tiny little harvest:
A lilac sweet bell pepper, two roma tomatoes and two tiny zucchini.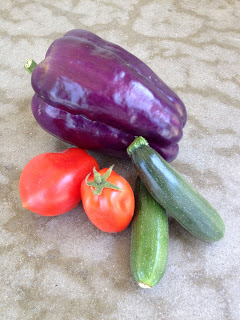 The zucchini flowers on my plant are teasing me with their potential to be stuffed or fried. I've never eaten or made stuffed zucchini flowers but I'm dying to try something new.
Happy Saturday everybody - be safe and have fun,
Susan
P.S. The title of today's post is courtesy of my 14 yr old. He walked by as I was writing the post and I asked him what he thought I should title the post with...."fresh greens" he replied with a smile. Love that boy.