I've mentioned here and on the podcast that I've been practicing for the
KCRW 4th Annual Good Food Pie Contest
for the last couple of months. I've been listening to
KCRW's Good Food
for years now on my local public radio station and for the previous three summers have enjoyed listening to Even Kleiman (the host) talk about pie and the different locations the contest would be held. While driving back from Northern California this past July while listening to Evan talk about another version of deliciousness known as pie, I decided to enter. Crazy idea as I've barely made pies and didn't grow up with a mother whom I can recall ever made a pie. But hey, why not?
For the last two months I've enjoyed making various kinds of custard/cream pies, learned that I that I prefer making a graham cracker crust to a pastry crust and made a lot of people smile with my creations. I've made Key Lime Pie, Chocolate Cream Pie, Buttermilk Pie (dud) and my own creation - Caramel Custard with Graham Cracker Crust. This past Saturday morning I began my pie prep, baked the crusts (two pies were required - one for the judges and one for the public), made the custard and had them in the refrigerator cooling by 8am.
So here was my entry - Caramel Custard with Graham Cracker Crust.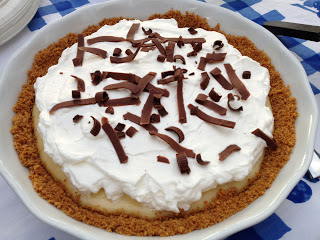 Caramel Custard with Graham Cracker Crust
And another...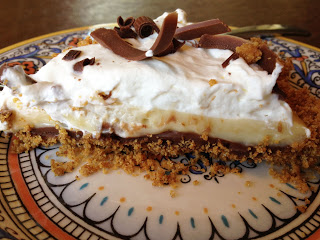 Caramel Custard with Graham Cracker Crust...with a hint of chocolate ganache
But guess what? I did not make it to the contest. A phone call at about 10am informed me that my oldest son had hurt his right knee during a soccer game and needed medical attention. So at approximately 12:30 when I was supposed to be at the LACMA (
Los Angeles County Museum of Art
), I was here: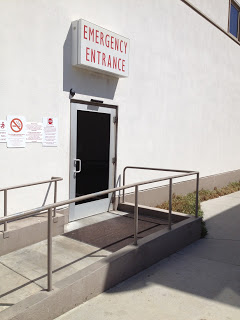 with him: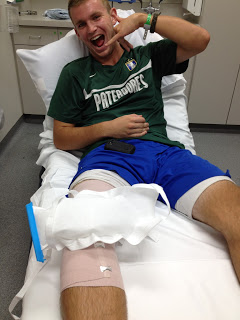 Being silly in the ER
Yes, that's my 16 year old having fun with the "Call Me Maybe" song (I'll confess - he's got me hooked on it too.) When the call came through my motherly instinct kicked in immediately and I knew I would not be attending the contest. It all ended well though - nothing broken and no serious damage to his knee, the ER visit was super fast and I was able to share my pie with wonderful neighbors that evening at a BBQ. Nothing like making more people smile.
Now I've got approximately 362 days to practice for the 5th Annual KCRW Good Food Pie Contest! Maybe I'll venture into some of the other categories: fruit, nut and savory.
Happy Monday everyone ~ Hope you have a great day.
Susan