School's out people and its time for me to resurrect this blog with a
Giveaway
!
I'm giving away four 1 yard cuts of
2wenty-thr3e
by Eric & Julie Comstock of
Cosmo Cricket
for Moda that I just picked up at
Birch Fabrics
in Paso Robles, CA over the weekend. The vintage style and fun words and graphics caught my eye while browsing through the store. I'll tell you how to enter down below.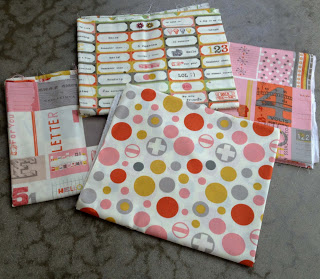 2WENTY-THR3E
Because it is Tuesday and to pay homage to my fellow food aficionado Debbie, here is a little
Tuesday at the Table
of my own: Spicy Tuna Rolls. This past Sunday afternoon one my Uncle's returned from a fishing trip to Mexico and showed up at my door with a huge cooler full of Bluefin Tuna. Yes...Bluefin Tuna. The melt in your mouth goodness that one shouldn't look at or even order as it's categorized as "Avoid" according to the
Monterrey Bay Aquarium Seafood Watch
. But when your Uncle shows up at your door with a cooler full of it, how can one refuse?
I didn't.
Last night I served the tuna two ways: Marinated, coated with sesame seeds and then seared quickly on the BBQ and rolled into Spicy Tuna rolls. I also served it to myself as I was preparing it, slicing off a sliver at a time relishing in the pure taste. I was even able to convince the 15 year old to try a taste - he still makes the same "icky" face he made when he was 2. So cute.
Wish I had more pictures but the camera was acting funny (it's really me who doesn't know how to work the camera,
yet
).
Nori, sushi rice, avocado, bluefin tuna, spicy mayo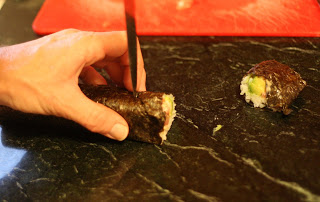 Not easy to cut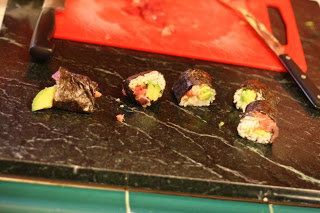 Not super pretty but they tasted divine!
To enter my School's Out Giveaway, please leave a comment about a favorite summer memory. I'll pick the winner on Friday, June 21st at 6am pacific time. I'm looking forward to reading your comments.
Hope lots of smiles come your way today~
Susan