In the winter months when my own personal garden is slowly growing/sleeping, I subscribe to a CSA (Community Supported Agriculture) for local organic vegetables to be delivered to my door every other week. Its a fun treat for me as I so enjoy of array of vegetable/fruit goodness that surprises me when I open the box. Last week I received a new squash that had never seen or tried - Delicata Squash.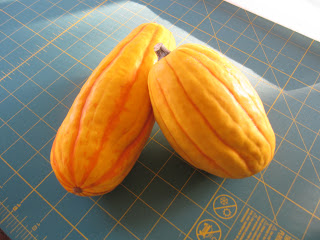 Delicata Squash
Last night I wanted to try something new for dinner so I looked at those cute new-to-me squashes and went searching on Google to find out what to do with them. To my delight I found a new (to me) food blog called s
ummertomato.com
where Darya had posted about Delicata Squash back in October. Please visit Darya's post
here
to see the recipe I used and let me just say that I second everything Darya says in her post about Delicata squash. It's delicious and very easy to prepare.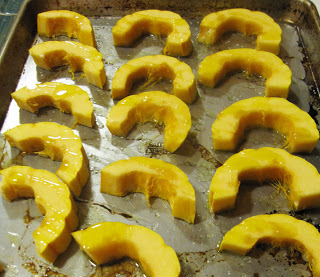 Delicata Squash/Olive Oil/Kosher Salt - roast in 425 degree oven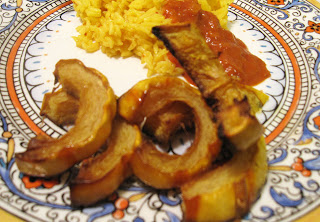 Roast on both sides for a crispy crust but a creamy interior.
Although I couldn't bribe my boys into trying the squash both my husband and I loved it. Truly a wonderful new surprise vegetable for me that I will be serving at my table for years go come.
I'm linking up with Debbie from
A Quilter't Table
for her
Tuesday at the Table
post today. Please go visit to read her inspiring story.
I also made Granola last night and I'm trying to stay away from it as I'm going to a much anticipated brunch shortly...want to enjoy the food!
Enjoy your Tuesday~
Susan