Happy Wednesday Everyone,
I have the pleasure of guest posting over
Sew Bittersweet Designs
today with Melissa so please go take a look. It's my first time guest posting and better yet, it's about a cake!

As for my WIP this week, I'm almost done with the
Evening Empire Dress
by Anna Maria Horner. The zipper was going in well but then I stalled out with the directions on how to finish it up. Then I got the idea to look at the zipper construction of dresses I already own and light bulb...now I know what I need to do to finish it up.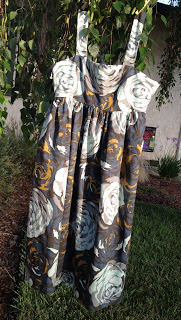 Evening Empire Dress enjoying the morning sun
What's next?
The T-Shirt Quilt - must get it done.
I'm linking up with Lee at
Freshly Pieced
this week. Lucky gal is going to Quilt Market! Please go visit to see what other's are working on.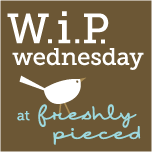 Have a wonderful Wednesday,
Susan