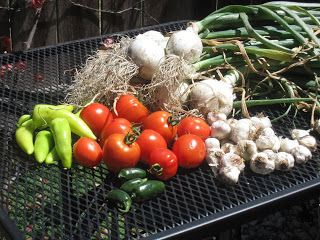 Bounty from the garden this morning
The sun is out!
It has been so dreary here all week with the sun making a short peek out of the clouds for maybe an hour in the afternoon. This past Thursday afternoon while my class was on break for thirty minutes I even went out and sat in the sun (with my hat on) to soak up the Vitamin D and improve my mood. It helped.
Went to my garden plot this morning and harvested Hungarian Wax Peppers and Jalapeño Peppers. The Hungarian Wax will go in Paella and the Jalapeños will be used in a Tomatillo Sauce/Salsa I make. More on the Tomatillo Sauce/Salsa on a future post. The tomatoes and large onions are from my own home garden - I guess they don't mind the June gloom. The garlic I grew in my garden plot and have been drying out (thanks to Shelley from
The Rebel Homemaker
) and now appears to be ready. Might make a Garlic Aioli tonight with dinner to see how the garlic tastes.
So I've made it to my tenth podcast which has led me to realize that I will be doing this for a long time as it appears to be no end to quilting history I can dig up. Thanks to access to a college database and an endless supply of curiosity (sometimes a downfall) along with topics that people have suggested to me and the ones that just spring up in my head, the History Quilter Podcast will go on.
Thank you to Rhonda from
Quilter in the Gap
for her blessing to speak about quilting history in the fascinating area that she lives in. If you have not listened to her podcast (also called Quilter in the Gap), please do as she is very funny and has a great take on quilting.
Here are links from Episode 10:
Go
here
for the blogpost I did on the Inside-Out Chocolate Cake.
I talked about Lizzy House and the 1000 Peeps Summer Camp Troupe 2011. The Pool Toys I spoke about are featured in Week 2 here:
http://lizzyhouse.typepad.com/lizzyhouse/2011/06/1001-peeps-summer-camp-week-2.html
Explore the Appalachian Quilt Trail at:
http://www.vacationaqt.com/
Appalachian Arts and Crafts Center in Clinton, TN:
http://www.appalachianarts.net/
Check out
Pillars of the Earth
and the follow up
World Without End
by Ken Follett for a great story about the building of a Cathedral in Kingsbridge, England in the 12th Century.
Ciao~
Susan