Do you follow the Bon Appetit blog called The Feed? I do (what a surprise) and last week they featured
Karen Le Billon
who just wrote
French Kids Eat Everything: How Our Family Moved to France, Cured Picky Eating, Banned Snacking, and Discovered 10 Simple Rules for Raising Happy, Healthy Eaters.
Yes a very long title...but the message is worth the eyestrain! The message being that in her opinion, when she moved to France with her young children she was able to glean from the French food culture around her certain rules and norms which helped her teach her own children how to become like she says, happy & healthy eaters. Go
here
to read her interview on The Feed. She's got a fun blog too - click on her name above to visit.
I have a relative picky eater in the house - he will eat a lot of just a few things and I have gotten used to tailoring my menus to his likes and dislikes. After reading the interview and viewing the informative and engaging French Food Rules graphic (BA and Ms. La Billon - please don't come after me...the credit is all yours!) I decided to take a stand.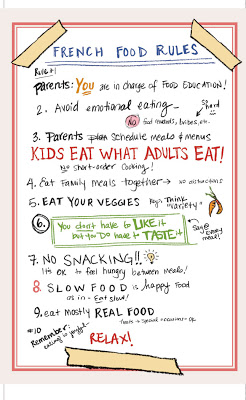 French Food Rules from Bon Appetit.com and Karen Le Billon
Last night I served
Stir-fried Eggplant and Tofu from Sunset Magazine
for dinner and followed numbers 3, 5 & 6 on above list. It was a bit stressful for me as he (younger son) came in and out of the kitchen during my prep, mumbling away at what he was going to be eating. The misery continued on during dinner as he limped along, cutting the small "no thank you bites" I had given him into minuscule pieces for him to ingest. I kept it together though and did my best to ignore his reactions and kept the conversation going - not about food.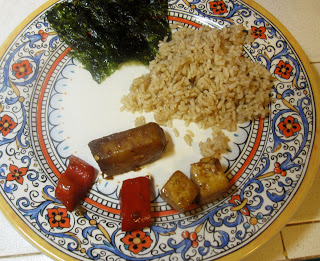 What I served the little stinker....
In the end I was happy - I had made a dinner that I really enjoyed, the husband liked it too and said we should have it again (score!) and my younger son ate his dinner...well most of it.
I'm linking up to Debbie with her Tuesday at the Table feature so please go read what she says about quiche. Not only a great recipe but great advice today.
(like always!)

So excited that today is finally here as I've been writing Lesson Plans and studying for a midterm that finally culminates today - can't wait to get the sewing machine out and start crafting...and have some fun!
Enjoy your day~
Susan