I had no plan for dinner tonight and so I rummaged around looking for what I could pull together for my boys and then for the husband and I. The boys had Spicy Sausage Sandwiches and the sweetest Strawberries possible that I bought at our local Farmer's Market yesterday morning. I love the Sunday Farmer's Market in my town. Just walking down the rows of fresh locally grown produce is worth the visit and the samples are enough to fill you up for breakfast of lunch, depending upon what time you show up.
Hmmm, what would we eat? The usual empty Monday refrigerator (I had fun today instead of going to the store) gave me no clues as to what to eat for our dinner. Then, a shred of a memory went from my unconscious to my conscious brain...the tomatoes might be ready! I turned toward my thirteen year old who was rattling off all he knew about the China/Japan unit in his 7th grade History class and I told him to follow me out to the backyard to see if my Early Girl tomatoes were ready. This is what we found:
Early Girl Tomatoes - June 6th, 2011 6:45pm

Within about five minutes those ripe tomatoes went from on the vine to this: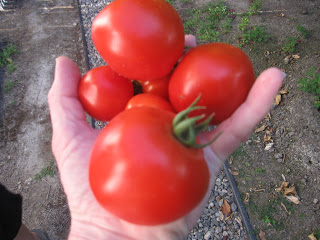 To this: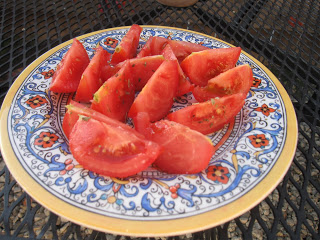 Early Girl Tomatoes
The Early Girl tomatoes were sliced and dressed with Olive Oil, Red Wine Vinegar, Kosher Salt and a touch of Basil. The husband and I polished off five tomatoes between the two of us...can you blame us? In case you were wondering we also had Humus and Flatbread and a lovely Risotto made with a recipe from Lynn Rossetto Kasper from
The Splendid Table's How to Eat Supper
cookbook.
I'm working on content for Episode #9 of the HQ Podcast that I will be recording Friday morning. Stay tuned for my results for making the Focaccia recipe I spoke about in Episode #8.
Ciao!
Susan