I'm moving right along with the Block-A-Pallooza blocks. I finished up blocks 13 & 15 on Monday afternoon. Only 2 1/2 more left and then I need to figure out how to piece the top together. I originally bought the fat eighth bundle of Sunkissed fabric and because there is a lot left, I am hoping that divine intervention will strike me with creativity on how to use that leftover fabric. Maybe a trip over the the Flickr group will help.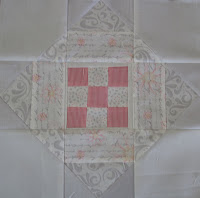 Block 13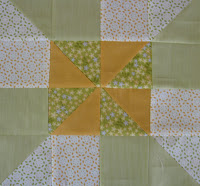 Block 15
My UFO's
Supernova - four blocks to go.
Sidewalk Satchel Bag - fabric cut
Do you know how our beloved quilting fabrics enter the United States?

When our favorite fabrics leave Asia (Moda fabrics are made in Korea, others are made in various other Asian countries), they travel by ship to various ports of call along the West Coast (Seattle, Oakland and Long Beach) and then turn back around toward Asia. It takes huge container ships roughly a week to cross the Pacific. I live in Long Beach, CA which is one of the biggest ports in the world and this morning I had the opportunity to chaperone 12th grade students on a Port of Long Beach tour by boat. (Thank goodness we did not go out of the break-wall - I get dreadfully seasick.)
Kind of a gloomy day weather wise but the two hour trip was informative and worth the $5 parking ($5? darn you City of Long Beach). The big container ships that bring us our fabrics dock here in Long Beach and offload their huge containers full of fabrics and other important quilting goodness
(and lots of other things that we need, but this is a quilting blog)
to rail cars and container trucks that move the fabrics across the Western and Central part of the United States.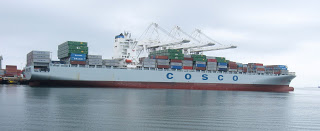 Cosco Container Lines Americas
This ship was huge! Click on the photo and look at the size of those containers - the smallest are 20 feet long. Imagine the quilting goodness coming off that ship right now.
A few other notables about the tour:
Recognize that bridge? If you saw Inception then you should.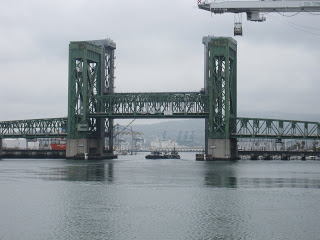 Commodore Schuyler F. Helms Draw Bridge
This one surprised me: This is the Mediterranean Shipping Company which is the only shipping line that travels through the Mediterranean Sea via La Spezia and Naples in Italy and Valencia in Spain before crossing the Atlantic and navigating the Panama Canal. I'm probably not wrong to assume that my Italian Olive Oil travels from Italy to me via MSC.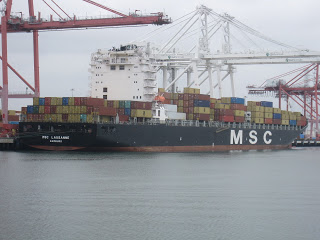 MSC Laussane
Sea Launch is a company that transports satellites out into the ocean somewhere along the equator to launch satellites. It's just cool.
Go check out what others are working on this week at Lee's
Freshly Pieced
.
Enjoy the rest of your Wednesday,
Susan