Who: Me
When: Today at about 10:00am PST
Where: Supplies purchased at the grocery store, prep and execution done in my kitchen.
Why: For a luncheon the husband attended.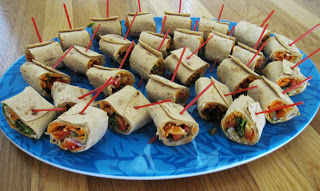 Veggie Roll-Ups
How:
(For the original recipe go here to the blog of Susan Branch)
Veggie Roll-Ups
Makes about 40 pieces
1 Package of
Flatout Flatbread
(not easy to find but worth your time - use tortillas if you cannot)
1 package of Boursin Cheese
1 bunch Watercress leaves or Radish sprouts - coarsely chopped
2 Carrots - grated
1 medium Red Onion - thinly sliced
1 Yellow or Red Bell Pepper - thinly sliced
salt and pepper
Toothpicks/Skewers
Begin by washing the vegetables and grating or slicing into the proper shape/size. Have every ingredient in a separate bowl all prepared before starting to prepare the roll-ups. Lay out the flatbread (the flatbread is oblong shaped so lay it horizontally) on a clean/dry surface and spread about two tablespoons of Boursin cheese over the surface of the flatbread. Take a small handful of the grated carrot and sprinkle over the cheese, lay about five pieces of bell pepper lengthwise over the carrot and sprinkle about two tablespoons of the greens over the bell pepper. Then take some red onion and lay over the bell pepper and sprinkle with S&P.
Now it is time to roll it up.
Starting at the bottom, begin to roll up the flatbread, lengthwise. As you roll it up, make sure you gather into the flatbread any vegetable pieces that try to get away. Gently squish the roll as you go but not too hard as you don't want any of the vegetables to break out of the flatbread.
With a clean, very sharp knife, cut up the flatbread roll into five or six pieces. You will not be serving the ends so go ahead and cut them off - I usually end of eating them as they are too good to throw out.
Use a toothpick or skewer to secure the Veggie Roll-Ups together. Depending upon the holiday or season, using festive toothpicks can be a fun way to dress up this appetizer.
Hope you enjoyed my historical approach to an appetizer. Let me know if you make them!
Are you ready for football season?
Ciao~
Susan