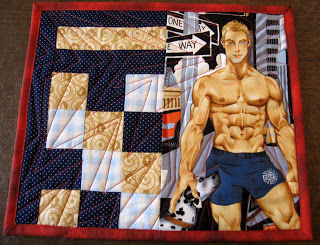 Mug Rug made by Zina for me - front
Isn't he lovely? Oh but look on the back....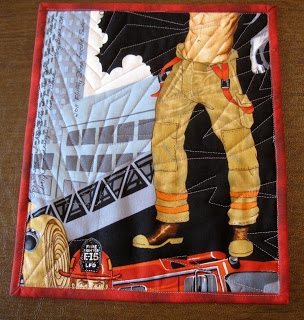 Mug Rug made by Zina for me - back
Had breakfast with him too. All courtesy of Zina, my Goodie Swap 2011 partner who lives maybe a mile from me.
A mile!
Goodie Swap 2011 was an international swap (hosted by Cindy from
Fluffy Sheep Quilting
who lives in Ireland) with many gals from the UK participating so how funny is it that Zina and I somehow got paired together.
Not only did I receive the above mug rug but she also sent me the coolest bag...there was no photo I could take that would do it justice. And she threw in a couple of fall colored fat quarters.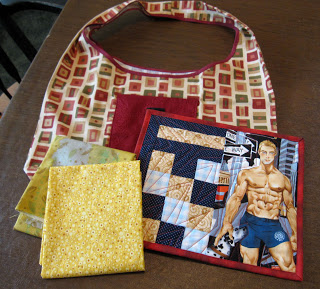 Please go visit Zina's
Flickr
page to see some of the other creative things she has made. Thank you so much Zina for making my first swap so successful! By the way I had seen this mug rug on the Flickr group and so when I saw who the package was from after I returned home from school last night about 9:30pm I squealed! I knew right away that I was receiving one of her lovely fireman goodies.
A Work In Progress Update: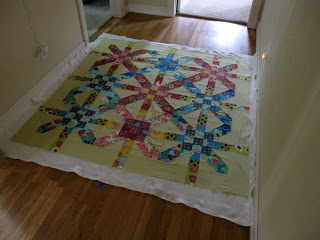 This is Supernova being based on the only solid surface in my house wide enough....just wide enough at 64 inches! So glad I thought of doing this instead of the carpet as now that I am in the quilting stage, the back looks so much better. I purchased the binding fabric and hope to get going on that by the weekend.
What's left on my WIP list:
Italian Sorbetto
Sliced Coins
School Yard
Lastly, it feels like Fall around here so I baked up a two loaves of Pumpkin Bread.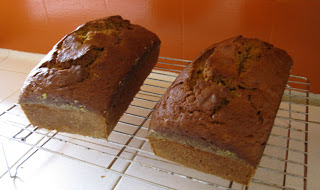 I'm linking up to WIP Wednesday #45 with Lee. Please go visit her at
Freshly Pieced
to see what she and others are working on this week.
Enjoy the rest of your Wednesday,
Susan