Yesterday I posted photos of the two pouches I have made for my partners in the Goodie Swap 2011 and today I give you my first mug rug for Partner #1. Partner #1 was generous enough to request anything the maker wanted so I decided to go with some of my beloved Anna Maria Horner fabric in both quilting cotton and voile. Sure hope Partner #1 likes it.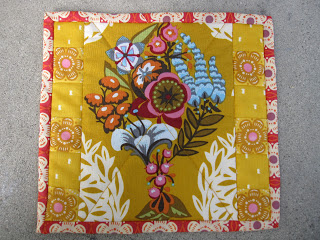 Mug Rug for Partner #1
Next up is a mug rug for Partner #2 which I plan on working on tonight. These little mini quilts are so fun to work on as they give me instant gratification. In two hours I had this perfect little (almost) 8x8 mini quilt perfect for a cup of coffee or tea. One of these days I need to make one for myself.
Other WIP's:
Supernova hanging over my son's Papasan Chair.
I
♥
maps.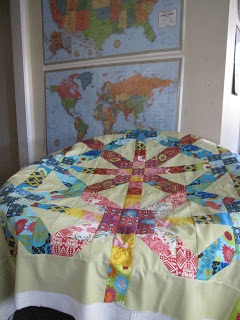 Supernova ready to be basted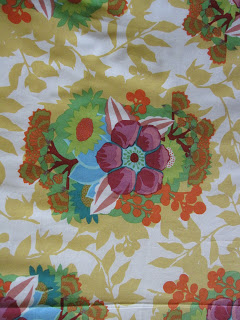 Backing fabric for Supernova
What's left:
Sliced Coins
School Yard
Italian Sorbetto
Lee is not hosting the WIP at
Freshly Pieced
this week as she is working on designing fabric for her Connecting Threads fabric collection. How exciting is that? Go by and give her some encouragement. :)
Happy Wednesday!
Susan