This past Thursday I got started with my next quilt project: Eighteen quilt blocks for my best bud's quilt top in which her mother will be finishing up. Her mother designed the quilt top in EQ7 and gave me the print outs of the overall plan and the instructions. Being that these blocks are for my best bud, I want them to be
perfect
so even the first step of cutting the fabric was a bit daunting.
What if I made a mistake? What if I made those initial cuts wrong? Thankfully I did not and so I then moved forward with chain piecing. 1,000 HST's later (ok not really 1,000 but it sure seems like it) I had two piles ready to be squared up.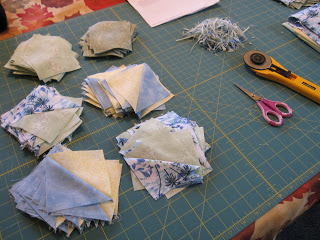 I've never worked on so many half square triangles (HST's) before so it's taking me a while to square them up. I'll work on a pile and then move on to another chore and then come back to squaring up again. How do you get through a huge pile of HST's that need to be squared up?
By Saturday morning I was ready to sew up the first block and while still wanting to do a perfect job, kept myself moving forward as I couldn't wait to see how the plan that was given to me transferred into reality. So here is the first block: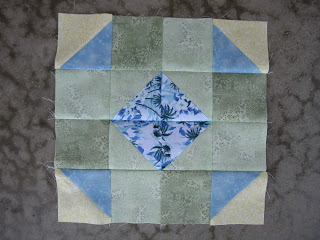 Super happy with #1 although I wish that the lower left corner came together better but hey, I'm human and I know that she will appreciate it. Plus in a sea of 38 or so blocks, hopefully it won't show up too much.
Now for the Cream Cheese Wontons ~ Thursday night while making dinner consisting of Chicken Teriyaki, Steamed Broccoli, Sushi Rice and Cream Cheese Wontons I realized that the wonton wrappers were just about the same size as the HST's. Too funny eh? Instant blog title inspiration.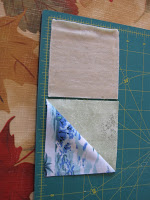 Stupid blogger rotates my photos...
I pulled out my
On Food and Cooking
by Harold McGee just for you to give you a little wonton history: According to Mr. McGee wontons are the original ravioli, in which the dough surrounds and encloses a mass of other ingredients.
Just typing that made me hungry...
He also says that wontons are mentioned in written records before 700 CE and archaeologists have found well-preserved specimens that date to the 9th century. How cool is that?
Here's a little history of how I make mine -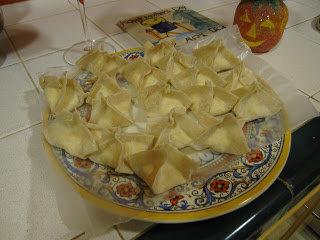 Wonton skins filled with Cream Cheese, a little cream and garlic powder.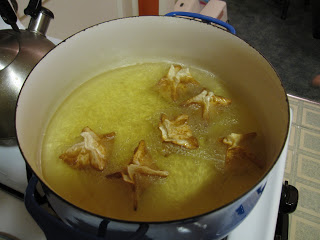 Fry them up in hot oil for about 10 seconds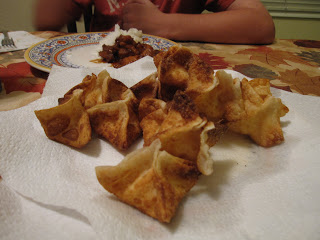 So tasty and savory!
Time for me to go make dinner....enjoy the rest of your Sunday,
Susan