Yesterday I hosted Thanksgiving 2.0 with my side of the family. It was an altogether different vibe than the afternoon before as there were young children running through my house - playing "indoor soccer" in my hallway, trying to sneak in a game of Super Smash Bros. on the Wii and playing 21. I love all the laughter, the delight and the surprises when young children are around.
Although they range from five to fifteen in age, all six have a great time together.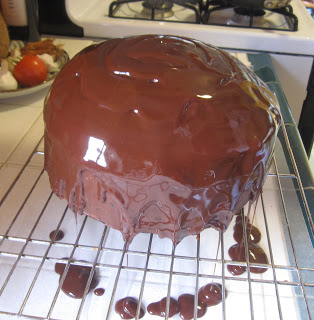 A few funny facts about those six:
Three have braces.
Four were not put on this earth to eat.
Two were - bet you can guess who they belong too..
Two are obsessed with video games.
The two girls are the loveliest nieces one could ever have.
The youngest is a carbon copy of his father.
My father with all six of his grandchildren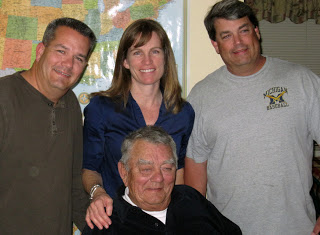 My brother's and I with our father
My kitchen had the night off from cooking as we brought in wonderful Lebanese food from
Open Sesame
. We the addition of those leftovers to Thursday night's dinner I think I may not have to cook for three days!
One little quilting tidbit for today...I learned the other day that the Latte Quilt I created for Hoffman Fabrics to display at Quilt Market is now in Minnesota. Apparently a sales rep from Hoffman was travelling to Minnesota after Quilt Market and asked to take it along for display. Reminds me of Flat Stanley...anybody remember him? Unless the Latte Quilt makes another stop somewhere in the U.S., I should be getting it back soon.
With the festivities over I can now pull out my sewing machine and get back to crafting.
Yea!
Enjoy your Saturday,
Susan