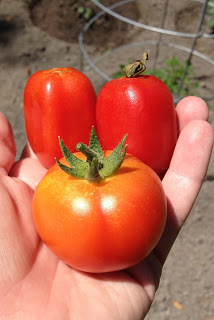 Two Romas and one Early Girl have decided to be the first tomatoes to ripen in my garden. These are both from my older small plot but I must add that all of the vegetables in my new plot are doing great - everything is showing wonderful growth. More on that in another blogpost.
On Thu, May 24, 2012 at 10:39 AM, strandkorbtraum wrote:
The why is easy: I'm not receiving any radio in some parts of the building I work in and I'm not always home or ready to listen when the program is on ...
What: well as a way to not forget all my English I usually go for the BBC, Radio Ireland and the Australian National Broadcast, they have some interesting, history and music podcasts. Australia had for a long time audio book podcast though they sadly decided to have almost only copyrighted books read that you can only get the podcasts inside Australia ... I do love the Scottish sports podcast, and I various gardening podcasts ... That's about it. Thanks for the chance!
Podcast update: I'm just about to take the hammer to my CPU and microphone (actually multiple microphones) as they've somehow just decided to stop working correctly to allow me to record my voice. I've been ready for a good four days now with tons of material and a new quilting history topic and plenty of time to record...and the hardware is now the problem. Ugh.
Hope you enjoy the rest of your Sunday,
Susan