Trying to balance my school life, home life, crafting life, etc. is hard! I want to do it all but something always has to take a backseat. Because school is the priority and I only have five weeks left in my semester, crafting has to take a back seat.
Did I say I would not be crafting at all?
NO WAY!
How else am I going to keep myself sane?
So for the 45 minutes I had this morning between seeing each of my boys off to school I worked on this: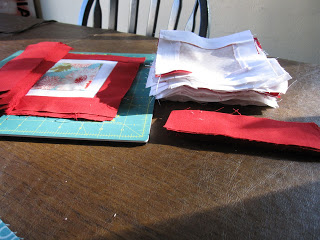 Chain piecing in progress for quilt along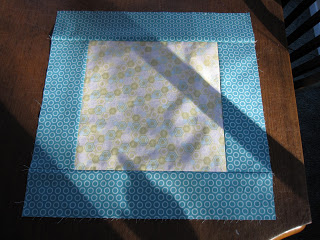 Pillow top for MIL to match her quilt
The sun streaming through our front windows only lasts for an hour or so, so I take advantage of it = streaks in the photos. I sure hope these colors work together. I finished cutting out all of the fabric last night while the husband was watching TV. By the way, I am not a big TV watcher. I'll be in the same room with him but usually I am reading a book or magazines or cutting fabric, and after 18 years of marriage to this man...
I excel at tuning out The Simpsons. Hope I do not offend anyone, but if I never see or hear another reference to The Simpsons for the rest of my life, it would be a good thing. Now I've just given that show ink on my blog! Ugh.
Off to the library to spend the day with my eyes in books. Hope you all have a very good Friday.