Thank goodness it is Fabric Friday!
In my non-crafty life I am a student. I go to school here: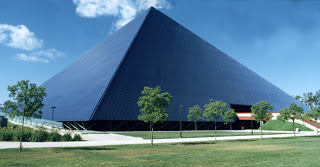 California State University Long Beach
Just to be clear I don't actually attend classes inside that building - that is the gym. Pretty cool building that I see almost everyday either driving my people around or walking/riding my bike to campus. What does the Pyramid have to do with Fabric Friday?
I was a good girl all week and stayed on task with my schoolwork. My class was last night and I received a great grade on some things that were due last week and after a meeting with my teacher, I feel great about how my final research paper is shaping up.
I'm a history major.
Today I get to play with fabric!
After I finish my chores this morning, I will venture out to fabric store pretty close to me. It's huge and the prices are pretty good. Tons and tons of bolts everywhere but the vibe in this store is different. The store itself is not new, pretty or remotely inviting but it is the fabric that draws people in. The people who work in the store are fascinating to me as I think a majority of them are of Eastern European nationalities and I so want to ask them where they are from, how did they get to Artesia, CA and what made you all work in this fabric store? Not going to happen but I still wonder. The historian in me loves the stories behind people.
I get kind of intimidated when I am in this store because I see obvious quilters with their shopping carts full of bolts waiting to be cut. I hear them in conversations with their friends or just maybe fellow shoppers on what fabric goes with that one and this one...it makes me feel a bit envious.
I have NO quilty friends!
I walk around staring at fabric and just get overwhelmed. But I still go.
So today I will purchase the backing and binding for this: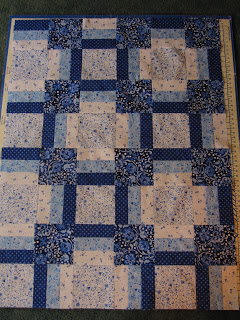 Hungarian Blue fabric
And I'll walk around and stare at fabric.
Happy Fabric Friday to you!