Although quiet here on my blog, my life has been far from quiet. The stunning events in Japan have held me transfixed for a week now - I'm going to do something to help but have not decided what to do yet.
Observing in classrooms is awesome. This week I hit 10th grade World History, 11th Grade U.S. History and 12th Grade Economics. I'm becoming emotionally invested in the students that I observe - I just can't help it. A few of them know that I am the sister of another teacher at the school but it seems to make little difference - they are all great kids. I have now completed 20 of the 45 hours required for the course. I'll finish up with 30 at the high school and then move on to do the remaining 15 at the middle school level.
A few quilt top finishes this week: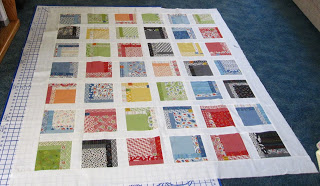 School Yard top is finished. I have backing and binding - may tackle spray basting for this one.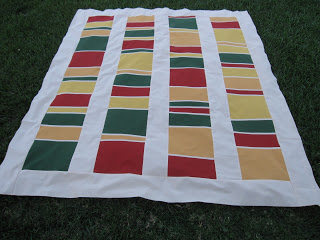 WooHoo! Sliced Coins top is finished! LOVE IT.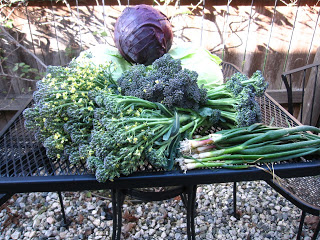 Picked Broccoli, Cabbage, and Green Onions on Monday.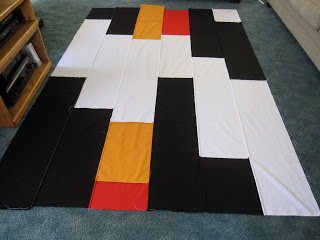 Back for Open Windows quilt for my son. Just waiting for the binding.
Yes, this is the biggest floor space in my house - barely fits this XL twin size quilt.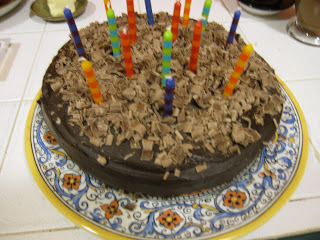 Birthday Cake for my 15 year old.
I like boxed cake mixes especially Duncan Hines (my mother thought they were the best so I follow her lead) but I usually think bought frosting is especially disgusting. I whipped up a batch of Cook's Illustrated Chocolate Frosting and then used a carrot slicer to carve shavings from a Milk Chocolate Bar for the shavings on the top. Looks great until the one blowing out the candles blows the shavings across the table!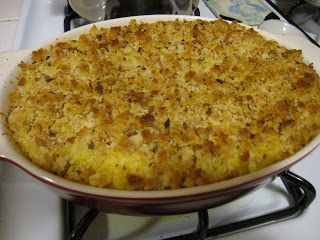 Mac-n-cheese for the birthday boy.
Made this from the Barefoot Contessa Family Style cookbook by Ina Garten. You can go
here
and get the exact recipe. Very yummy!
Just uploaded Episode #5 of the History Quilter podcast so go listen!
One last thing....I've been working so hard to finish existing projects so I can participate in this!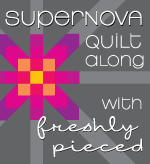 I'm so excited about the
Supernova QA with Lee of Freshly Pieced
. The design is amazing and I can't help but love the name. A little
Muse
inspiration perhaps? Easy to jump in and say yes but hard to figure out which fabric to use! The
Flickr
group has photos from people who have chosen fabrics and the ALL know what they are doing. Time for more learning.
Got to finish this up so I can go cut fabric! I'm home alone and ready to sew up a storm.