If you are looking for my Sew Mama Sew Giveaway Day post go here...but before you go, why don't you keep reading?
Last night I decided to start making
Pumpkin Cinnamon Rolls
so I could serve them to my boys this morning. I got this recipe out of Cooking Light Magazine way back in October of 2001.
Here's the play-by-play:
1. I utilize my bread maker by dumping in all of the ingredients and letting the machine do all the hard work.
2. Ninety minutes later I rolled out the dough on my marble slab, sprinkled on the cinnamon/sugar/butter mix and rolled it up into a log.
3. My younger son helped me cut them up into one inch slices and we placed them into a classic metal 9x13 cake pan.
4. I covered the rolls with plastic wrap and popped them into the fridge for the night.
5. I woke up at 5:30 this morning and turned on the oven. Pulled the rolls out so they could warm on the counter.
6. I then went to read my 40 or so comments that had come in over night from my giveaway. The comments alone are worth doing a giveaway.
7. At 6:30 I put the rolls in the oven and made the icing. When a recipe says to sift the powdered sugar...
sift the powdered sugar
.
8. By 7:00am both boys were sitting at the kitchen table eating warm rolls. Both refused to allow me to put their photo on here. Can you imagine that?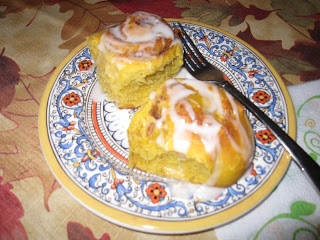 Pumpkin Cinnamon Rolls
Yoga Retreat Weekend Review/Recap:
Before this trip I was a casual practicer of Yoga, going a few times a year and enjoying the practice but not realizing the benefits it could bring me. Leading up to the trip my friend Julie and I attended classes to brush up on our poses and to gain greater flexibility to prepare for the trip. It was our way of cramming before a test.
My friend's Julie, Susie and I arrived at the White Lotus Retreat Center in Santa Barbara, CA about 4:00pm on Friday after a leisurely drive up the coast where we stopped along the way to shop and eat lunch. We knew we were sleeping in a loft and with the exception of the ladder we had to climb it turned out to be the best place to stay. It was warm and had easy access to a bathroom!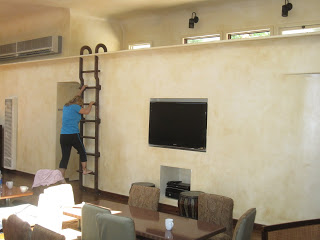 The ladder...makes one think before you climb.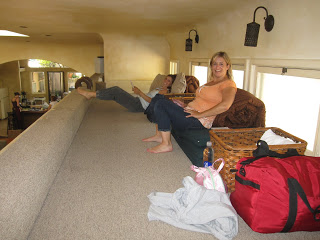 Our loft. My buds, Susie & Julie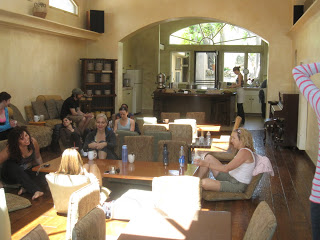 Main eating and congregation area. Kitchen in the background.
The food was amazing.
Beatrix Rohlson
is the resident chef at the White Lotus and while many were scared of her, I liked her. I would have been in that kitchen watching every move she made if not for the vibe she gave off of wanting her space. We ate gourmet vegetarian/vegan meals for breakfast, lunch and dinner which was wonderful for my fiends and I, but we learned that there were some attendees who neglected to read the fine print about the food offerings. By Saturday afternoon there were a few who drove back into Santa Barbara to visit McDonald's.
Breakfasts: Oatmeal, toasted granola, assorted fruits: blueberries, bananas, apples, papayas, pineapples, assorted breads and yogurt.
Lunch and Dinner: lentil soup, spicy tofu goodness, quinoa, millet/broccoli salad, braised carrots, potato bar with tofu sour cream (so good!), green beans and so much more.
Yoga Practice: Our first night we had Yoga Practice before dinner and was a pretty relaxed session. Saturday morning though was a two hour Yoga Practice marathon which kicked our butts. Who knew I could move my arms in legs into such crazy poses! Our Yoga instructor, Joe Vogt who owns
Purple Yoga
in Long Beach and Fullerton, CA was amazing. He was very relaxed, encouraging, and accepting of everyone's yoga practice which flowed through the entire weekend.
Saturday afternoon most of the group hiked down the property into the valley floor below to view the waterfalls and natural pools.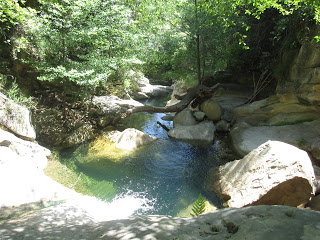 The natural pools were beautiful.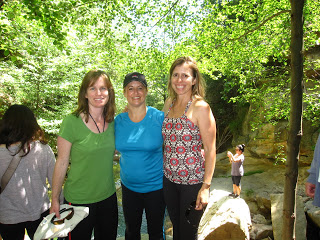 Myself, Julie and Susie. Main natural pool just behind us.
Once we get down to the pools people start jumping in. One after another they jump in, come to the surface with a gasp, a curse or a scream because of the shockingly cold water and scamper to the rocks as fast as they can. None of us had any intention of going on until.....Susie walked over to me and I blurted out, "We should all jump in". She laughed and told me I should go in. Why not?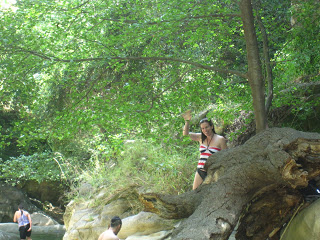 I'm seriously numb from the cold.
I went in.
Then we had to hike all the way back up the canyon to the Center. A hot tub never felt so good. :)
Another two hour restorative Yoga practice on Saturday night followed with another two hour Yoga Practice Sunday morning made all three of us feel like we were becoming unhinged....in a good way.
It was a wonderful relaxing and restorative weekend for me. Being away from my family allowed me to be bond more with my girlfriends, take a break from being a mother and do some deep thinking. E-mail me if you want to know more about the White Lotus Retreat Center or about Yoga practice.
Have a wonderful Tuesday!
Susan