If you have come over from my personal blog...thank you!
If you are here for the first time, welcome!
Did you notice in your top address bar.....www.historyquilter.com? My own URL!
Today being the first of May, (
strike that - it is now the second day...blogger would not let me post yesterday
) I am reminded of how I used to bring my mother a gift of flowers on May Day when I was in elementary school. We lived down the hill from school and as I walked home, I picked flowers from the neighbor's yards as I went along. ..without a care in the world. My mother seemed to enjoy those May Day flowers very much but she must have realized where I had obtained them.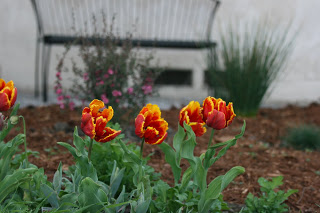 Tulips from my front yard
So in honor of the Second day of May, I give you Tulips. Tulips are my favorite flower and I usually grow a couple dozen every year. Here in California it does not get cold enough in the ground for them to develop their flower so I put the bulbs in the refrigerator for about two months before I plant them. This year I grew an early Orange Parrot (as you see above) and a later blooming more traditional style of tulip in assorted colors.
Hope you have a wonderful Monday!
Susan