Welcome those whom are visiting from the Sew Mama Sew Giveaway Day. Please go
here
to enter in my giveaway.
My semester is over and now the push to finish/make Christmas gifts is on. Besides the Orange & Black quilt for my nephew, I am making little zip pouches for my nieces that will hold various small denomination gift cards. My creative juices are just too strong to keep from making handmade for them this year (you might remember that I vowed not to make handmade for family after my experience last year) but I'm keeping it simple by just making pouches. First up is my oldest niece on my side of the family - lovely girl whom is entering her teenage years very smoothly. So wish I would see her more often.
For the front I chose to try my first
ever
log cabin block. Talk about fun - I enjoyed using strips of 1
1/2"
fabric to lay this block out even though I had no idea what I was doing. I used
Modern Log Cabin Quilting
by Susan Beal for instruction - and they were great!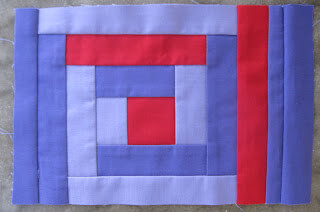 Bag front for B.
For the back of the bag I used a block pattern called Everything Equal by
Louise Papas
from the Modern Blocks: 99 Quilt Blocks From Your Favorite Designers book compiled by Susanne Woods.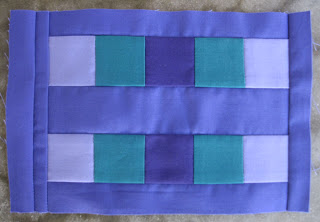 Bag back for B.
I've got more in the works but I'm out of time...off to take my father to the doctor.
Enjoy your Thursday!
Susan