Happy Wednesday!
Borders have now been attached to the Orange & Black Quilt and I am off shortly to go purchase backing and binding fabric so I can begin basting this "Little Man". This was the second time I used a quilt pattern from the
Simplify
book by Camille Roskelley and again, could not be happier.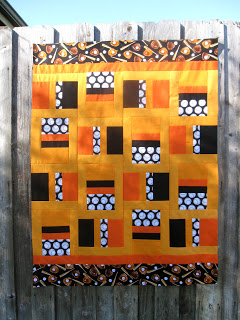 Orange & Black
Laundry
: I am teaching both my boys how to do their own laundry and without identifying whom, I have to say that one of them has embraced the process without a hitch. Loads the washing machine with the correct amount of clothes, checks back to load the clean clothes into the dryer and folds his clothes in a timely manner. The other son....oh my goodness. The pile of clothes that envelopes his laundry basket is enormous, he loads the washer up with too many clothes and then leaves clothes in the washer. The worst part is the pile of clean but irreversibly wrinkled clothes which litter his bed during the day. At night they all get lumped on his desk. Oh, and get this...he comes out with a horribly wrinkled shirt the other morning and asks if the wrinkles will come out before he leaves for school! Got any suggestions for me?
Off to lunch and fabric shopping - hope you all enjoy your day.
Susan