Wonderfully busy day today filled with orange & black fabric, cake pops, observing in the classroom and some very tasty egg rolls. I'll elaborate more on the cake pops tomorrow.
The quilt top for my nephew is almost done - here it is in the fading light of the Monday sun. I cut out the fabric Saturday evening, began sewing the blocks yesterday afternoon and just finished sewing up the rows.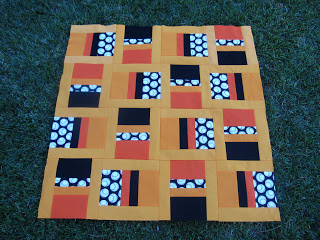 Little Man quilt pattern 40x40
I visited my favorite fabric store today to purchase the border, binding and backing fabrics but came out empty handed. Turned out they were holding their annual 20% off sale and everybody and their mother was either looking at fabric or standing in line. The cutting table line was 30 deep! So I browsed a little and walked out determined to visit again but at 9am when they open.
I'm off to make pasta, sauce and whatever meat I can find in the house for the carnivores. Focaccia will also be thrown into that mix to make the younger son happy.
Linking up to
Manic Monday Linky Party
with Jenna of Sew Happy Geek.
Enjoy the rest of your Monday...
Susan