For the last eleven years I have been a caregiver, first to my mother and then to my father after she passed away. I embraced this role gladly without reservation nor resentment as I felt it was just something I was supposed to be doing - caring for my parents.
Suddenly without warning this past Monday afternoon I was no longer a caregiver. My father passed away in his own home and on his own terms - the best possible scenario for him.
I am heartbroken and missing my father so much I can hardly bear it. He was an integral part of my daily life as I was always thinking about him, talking to him on the phone and seeing him around town on his little red scooter: in Trader Joe's, in front of the local donut shop or even on campus at CSULB. I always enjoyed how he would light up when he realized it was me walking toward him when we met outside of our homes. He'd call out to the nearest stranger, "look- here's my daughter, my very own daughter!".
I have no regrets, only sadness that it will be a very long time before I see him again but am comforted by the thought that he is now back together with my mother.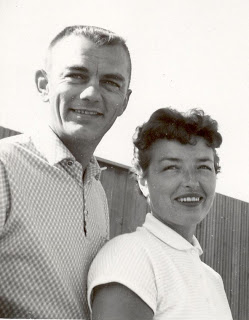 Bill & Jean
Bear with me here while I take the time to get back my crafting/cooking/blogging mojo.
Take care,
Susan