I love to bake cookies. Cookies, to me are instant gratification - Ingredients on hand, mix in a bowl, bake them up and enjoy. The classic Tollhouse Chocolate Chip cookie recipe takes me about 20 minutes to go from ingredients in the pantry to a hot cookie on the counter. I have vivid memories of my mother teaching me how to make them when I was so young that I had to stand on a stool to see over the counter. I was such an active child (not unlike now) that I was always falling off that stool and boy would she scold me to "calm down". I treasure those those memories.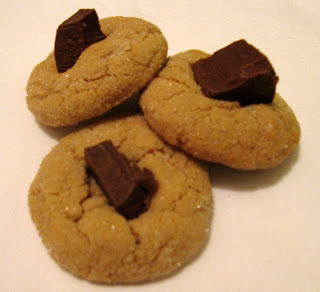 Peanut Butter Chocolate Chip Cookies
Sunday night while watching the Academy Awards (in between commercials), my younger son and I made Peanut Butter Chocolate Chunk Cookies. This is a Hershey Kiss recipe (go
here
for the recipe) which after the cookies comes out of the oven, an unwrapped Hershey Kiss is placed in the center while the cookie is still hot. So fun to come back two minutes later or so and see how the bottom part of the chocolate has melted into the cookie but the top of the chocolate retains it's shape. As you can see from my photo those are not Hershey Kisses - I actually had two huge Hershey Kisses on hand so I chopped them up and placed big chunks into the cookies. By the way, as my younger son is a male version of me, guess who is telling him to "calm down" in the kitchen? Too funny.
Huge quilting news....Last night I finished a quilt! I'll have all the details and better photos tomorrow but for now here is School Yard!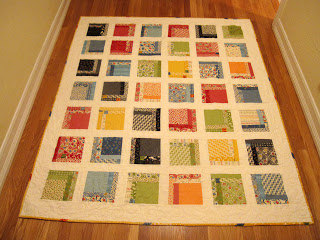 School Yard - 61" x 53"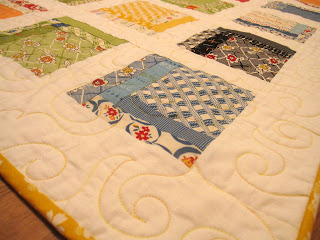 My quilter did an amazing job.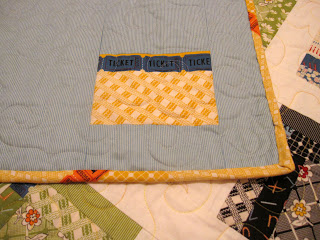 A label! Now I just have to write on it.
I'm linking up with Debbie at her
Tuesday at the Table Feature
...she posted about Hostess Cupcakes! Silly me giving up sweets for Lent...I want one of her cupcakes NOW. I'm also linking up with
Fabric Tuesday
at Quilt Story - go see what others have linked up to today.
Yea it's a school day for me!
Enjoy your Tuesday,
Susan