I've been done with these twelve blocks from Jenna's
Sew Happy Quilt QAL
since April and Sunday I figured they had sat long enough. They were lonely sitting all stacked up upon each other. They needed to be holding hands and able to look at one another. I pulled out the Kona Celery and started cutting. I knew I wanted a large border - why? No idea but I like the look. Added the Kona White after the Kona Celery due to great suggestions via Twitter confirmed that another border would possibly work.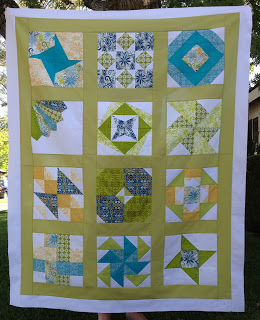 Sea Glass Quilt Top standing up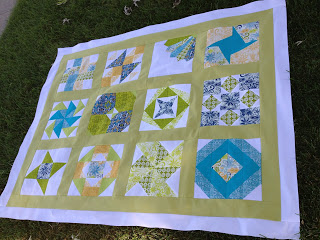 Sea Glass Quilt Top laying down
I love it. Makes me happy. I'm
calling
it Sea Glass. Backing and binding fabric have been ordered and hopefully soon Sea Glass will be quilted up and finished.
I'm linking up with Jenna of Sew Happy Geek with her
Manic Monday Linky Party
. A big huge thank you to Jenna for hosting such a wonderful Quilt Along - I love what I have created and I learned so much!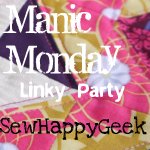 Happy Monday Everyone,
Susan