Last night I entered the kitchen at approximately 7pm after working out at the gym.
Time to start the dinner I promised the troops.
That will be at least an hour...ugh.
Open the refrigerator door to start the prep work and what do I spy? BBQ'd chicken breasts and tomato soup left over from other meals. Light bulb! Turn around and see the fresh bread on the counter and I've got dinner covered in 10 minutes.
A kitchen table covered with sewing items automatically called for a picnic on the carpet. Chicken salad sandwiches, tomato soup and red grapes on a Bliss tablecloth while watching House Hunters International. Perfect.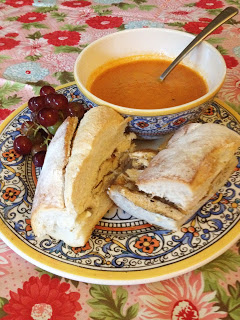 Have you ever had a leftover picnic? Please share!
Susan