Last night I had the great pleasure of attending the inaugural meeting of the Long Beach Modern Quilt Guild. A neighbor and fellow quilter told me about the meeting just a few days ago but I did not realize until we arrived at the Sew Vac store that it was the first meeting. What fun and what luck! I have long wished to attend either the Los Angeles or Orange County Quilt Guild meetings, but at roughly 30 miles away in each direction, neither one was all that convenient. What a wonderful boost this new guild will be to our quilting world here in Long Beach.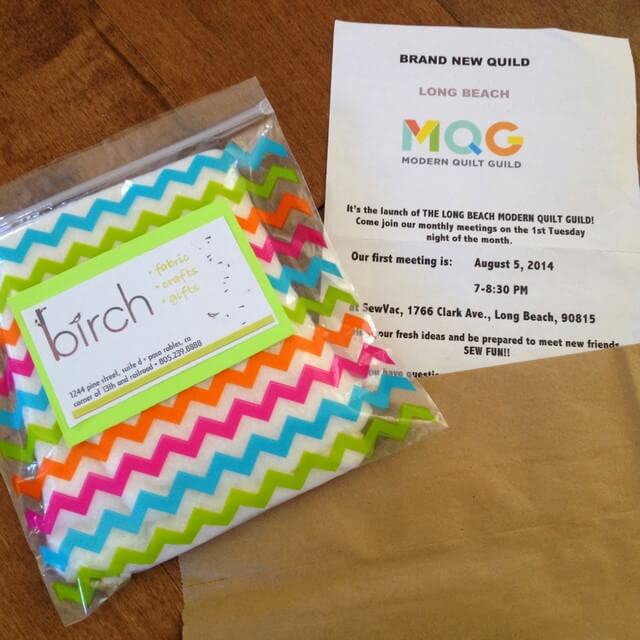 Guild meeting fun: I won a little bag of organic batting that was donated from Birch Fabrics, the brick-n-mortar store of
Fabricworm.com
. Also we were given a brown lunch bag for "homework" as we are to bring a completed modern style Mug Rug to the next meeting and a "brown bag swap" will occur with all finished Mug Rugs. Can't wait for next month! **Note to Zina - you must join us! :)
Hot off the sewing machine: This is a long term WIP and with Jaye's (
Artquiltmaker.com
) visit last month, she inspired me to get moving on it, among other things. This is the Parisian Star from the Modern Blocks Bee I participated in 2013. The top is a mixture of Voile and Osnaburg (think a softer burlap) fabrics. I'll have more details once I quilt and bind it.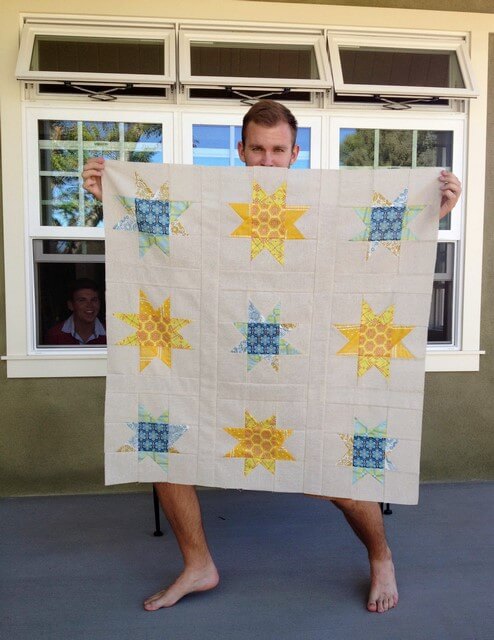 Photo bomb courtesy of younger son
It's been a wonderful quilty day!
Ciao~
Susan