My boys and I went to the
O.C. Fair
yesterday here in Southern California with my best bud Julie, her children and her mother Joan. We've gone before and usually we have the unfortunate luck to go on the hottest day of the summer but thankfully yesterday was a perfect 79 degrees. The O.C. Fair is truly a suburban fair with the fairgrounds sandwiched in between a major freeway, a community college, suburban tract housing and a stones throw from John Wayne Airport.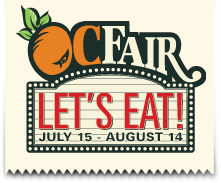 Entertainment at the fair is all over the map with several venues sprinkled throughout the fairgrounds. Tribute bands play every night (I missed out on Strangelove - the preeminent Depeche Mode tribute band - bummer), local unknowns play all over the fairgrounds during the day (actually heard a few really good ones), local dancing groups hit the stage where we were eating - the tango was my favorite, and bigger headliners rock the Pacific Amphitheater throughout the month long festival.
County fairs are a fun way to bring a relatively local community together to eat, to be entertained and to participate in livestock and agricultural events. At the O.C. Fair this year, eating was the main attraction with seemingly hundreds of food vendors all over the fairgrounds. If you've watched the Food Network or especially the Travel Channel in the last six months or so you've heard about the fried butter craze, well that was so 2010 because this year it was fried Kool Aid.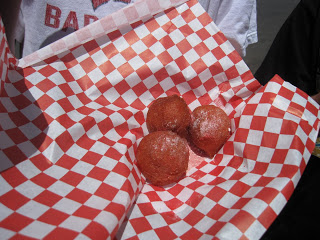 Fried Kool Aid
Disgusting. Seriously.
I hated Kool Aid as a kid and these little balls of fried dough sweetened with Kool Aid were not my cup of tea, but hey, I had to try it. I never turn down something new.
Julie and I had baked potatoes for lunch which were pretty darn yummy. The spud shack (forgot a pic) hooked us up with a huge potato filled with any topping we wanted. Julie went in for Sour Cream and Cheese (Julie - what kind of combo is that?) and I went with Sour Cream and Salsa (yummy).
We're both almost vegetarians so the mammoth sized Turkey Legs or the colossal brick of french fries (I know a vegetable) which looked like it contained a gallon of oil did not turn our heads but we had to go all in for dessert just to say we tried them.
I present to you the fried dessert smorgasbord:
Fried Brownie, Apple Crisp, Frosting Shots, Fried Snicker Bar and Fried Kool Aid

Between the seven of us we all had a little taste of everything. The fried food was pretty awful because it was just too greasy. When I fry food at home I try and cook it at a hot enough temperature to where you don't get the greasy taste/feeling. My baked potato was the best food I had all day but it was fun to try all the strange foods. Some other strange combinations we did not partake in: Chocolate Covered Corn Dogs, Fried Zucchini Nachos and the ubiquitous fried butter.
We also tried Chocolate Covered Bacon. Tasted like chocolate covered pretzels to me.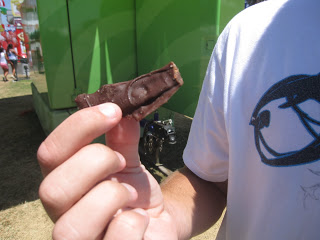 Chocolate Covered Bacon

My older son had a hot dog the size of Tennessee:
Add caption
While the kids ran around going on the rides and playing games, Julie, Joan and I walked the Exhibition Halls, checked out the Livestock and people watched. In the Crafts and Woodworking Hall we observed quilts that had been entered into different show categories. My two favorites were: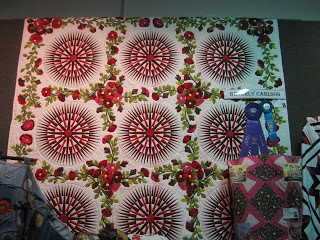 Best of Show
My new quilting friend
Eileen Wintemute
had quilt in the show and won Judges Choice and Second Prize. Yea for Eileen!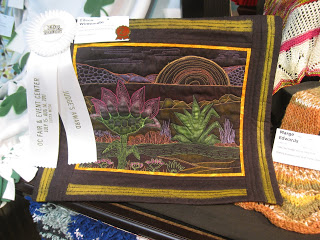 Eileen Wintemute
I also love seeing animals at the fair:
tiny little chicks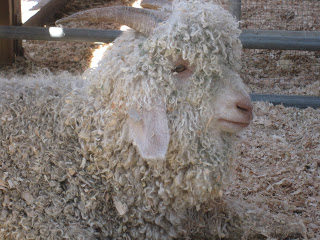 sheep giving me the stink eye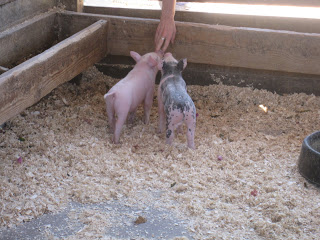 piglets about three weeks old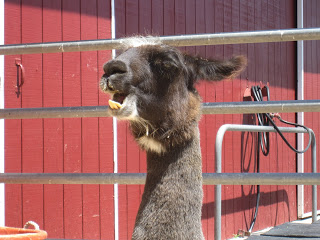 llama in need of some serious orthodontic work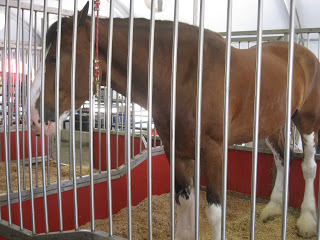 "Duke" A Budweiser Clydesdale
All of us had a great day. One last gem - as Julie, Joan and I were walking around we heard a loud noise from above and we looked up and spied some of our own animals: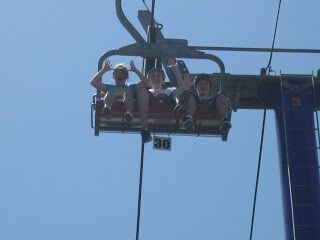 hers, a friend and mine
Do you go to your local county fair or do you travel to your hometown fair as a part of tradition? Leave me a comment and tell me about it and I'll talk about it on my next podcast.
Wherever you are...at the beach or at the fair ~ have a great Saturday,
Susan