My "favorite cousin from Annapolis" (Hi Liz!) asked me a few weeks ago if she could commission me to make her oldest son a quilt out of his college t-shirts and I agreed only after making her aware that I've never made a t-shirt quilt before. Last week a rather large box arrived at my doorstep which upon opening I discovered 22 various college intramural sports shirts: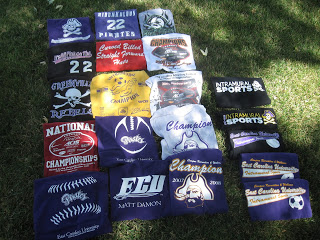 first look at the t-shirts
Now that I had the shirts I had to start doing some research on how to make the quilt. After about an hour of research I discovered a tutorial by Mandy of
Dixie Chicken Quilts
that provides clear step by step instructions to making a t-shirt quilt.
This morning I took an accounting of the fronts and backs of all 22 shirts and came up with:
22 12 1/2 x 12 1/2 logos
9 12 1/2 x 7 1/2 logos
a few smaller 4 1/2 x 3 1/2 logos
three 16 x 16 logos
My next step is to cut the shirts up to remove the fronts from the backs. Once I have those larger pieces laid out then I'll actually start cutting out the blocks for the quilt and I guarantee I'll be nervous at that point. My cousin told me she trusted my creativity....oh boy I've got to dig down deep to find that creativity! LOL
By the way this photo is the inspiration photo for me that my cousin sent me. The quilt below is for a female so I am aiming for a quilt similar this this style but obviously for a male.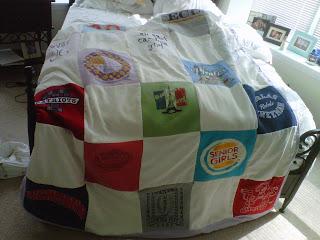 inspiration photo of t-shirt quilt
I'll be posting every step of this t-shirt quilt process so come back to cheer me on. If you have made a t-shirt quilt and have any advice, please feel free to share it. My goal is to be standing in line at the post office on Monday, August 29th to send this quilt off to Annapolis. Wish me luck!
Enjoy your Saturday,
Susan