I listen to the
Stuff You Missed in Class
podcast on a regular basis and was riveted recently by two podcasts both with author David McCullough profiled. If you are not familiar with David McCullough he wrote 1776, John Adams and the most recently published
The Greater Journey: Americans in Paris
which I just picked up this morning to begin reading and am now hooked. It tells the story of Americans who traveled to Paris during the nineteenth century (1830 -1900 to be exact) and how what they learned in Paris and brought back to America helped change our country.
He writes the story chronologically and I'm up to where the various Americans profiled are arriving in Paris and viewing their new surroundings with fresh and almost virginal eyes as cathedrals and buildings are so much larger than what they are used to in their home cities. But now I have a dilemma: Once dinner is done and people are in their usual places around this house I have to choose between reading more of The Greater Journey or hand sew the binding on this: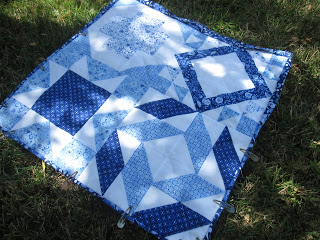 Summer Sampler Series Table Topper
I was motivated to sew this afternoon so I picked up the Summer Sampler Series Table Topper and basted, quilted and sewed on the binding...with a little help from
Debbie
. Thanks Debbie!
So do I finish a project or learn more about where the various Americans in my story are going in Paris and what they are learning?
If you know me at all, I'll do both.
Happy Friday and have a wonderful weekend.
Susan