Happy Monday Everyone,
HQ Podcast Episode 25 where I speak (a little) about Hawaiian Quilts is now posted on
Podbean
and
iTunes
. I did not have a much time to research Hawaiian Quilts this week as I would have liked so my research is a little thin so stay tuned for Ep. 26 where I'll flesh it out a bit more.
Don't forget to join Sandy at Quilting For The Rest of Us for her
Two Year Podcastaversary Giveaway Week 3
. She's giving away two $50 gift certificates to the Fat Quarter Shop.
The Hawaiian Quilt Research Project
has contributed photos and information for approximately 651 quilts to The Quilt Index. Go
here
to view those quilts. One of the founders of the Hawaiian Quilt Research Project, Elaine Zinn, was interviewed by The Alliance for American Quilts in 2008 where she talks about her her own interest in Hawaiian Quilts but how she and Elizabeth Akana (whom I mentioned in the podcast) began documenting quilts for the above mentioned Hawaiian Quilt Research Project. Wish it was a podcast, but it is an interesting read - go
here
to read the interview.
I mentioned a Friendship Quilt that I saw at my local quilt guild meeting this past week (sorry no photo) but the whole idea of a friendship quilt (also known as a Round Robin) intrigues me. Tami from Denver, a faithful quilting podcast listener to us all, sent me a photo of her own Round Robin quilt and gave me permission to post: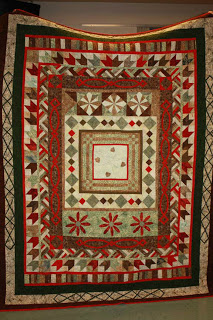 Round Robin Quilt courtesy of Tami in Denver
She shared with me via Twitter Saturday evening that this quilt took a year to finish and although it was a challenge for her group which caused a bit of distention, she is very happy with how it turned out. Tami, thank you so much for sharing - it is gorgeous!
Podcast Episodes worth a listen
:
Taste Matters with Mitchell Davis
- Episode 30 with Marion Nestle. They talk about the "calorie" - worth your 30 minutes for the science behind the calorie and how we can us it to make smart food choices.
The Moth Podcast
- Roald Hoffman/Cocoon of Love 4/9/12. Mr. Hoffman has a wonderful voice but the story is what gripped me and made me go back and listen again.
The History Chicks
are back with Season 3 and they are giving us some great topics. Katherine of Aragon, Anne Boleyn and a little mini-cast of the Titanic are all new.
Random photos from the quick Easter weekend vacation:
Facade of Hearst Castle in San Simeon, CA
Elephant Seals sleeping on the beach San Simeon, CA
Fence rail flowers inside of Mission San Luis Obispo, CA
Food:
No photo for the Posole: Pork and Hominy Soup but here are the links: Go
here
for the Carnitas that I described that go into the soup and go
here
for the Posole. Both recipes come from
www.thenoshery.com
.
Blueberry-Brown Sugar Plain Cake from Baking: From My Home To Yours by Dorie Greenspan. Go
here
for the recipe.
Blueberry-Brown Sugar Plain Cake
One last thing not related to the podcast - my oldest had his Confirmation ceremony yesterday in our church.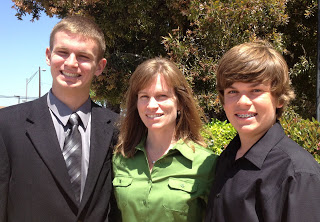 Hope you all have a wonderful day,
Susan