I've done a little bit of sewing this week: Here is my second attempt at the Box Kite block by Angela Pingel from
Modern Blocks
by Susanne Woods. A huge thank you to your comments and help last week when my first attempt did not work out so well. I'm very happy with this one!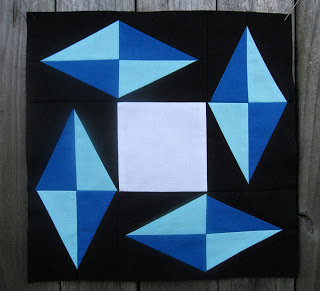 Box Kite by Angela Pingel - the 2.0 version
Next up is the April Bee Block called Potager by Yvonne Malone also in
Modern Blocks
by Susanne Woods. The Nicey Jane fabric is so cute - too girly for me but fun to work on and send back to its home.
Potager by Yvonne Malone
Next up on my WIP:
T-Shirt Quilt for Cousin - top done, backing & binding purchased
Camo bags for the boys - camo fabric in house, will use the
Lined Drawstring Bag Pattern
Sew Happy Geek QAL - 12 blocks done, no further progress
Mug rugs for family and friends who have been so supportive
Dreaming of working on:
Dresses and skirts - fabrics and patterns are calling out to me to be purchased and made for summer. Yea summer is coming!
Please visit Lee at
Freshly Pieced
to see what others have in their WIP for this week. Go see her Going Coastal quilt - I just love it.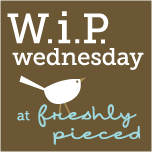 Have a great day!
Susan