A very happy Friday to you all. Here in Southern California we are expecting a very cold storm this evening and into tomorrow and before I forget, I must go out and put sheets over some of my plants in the yard. A few years ago we had such a bad frost here that I lost two bougainvilleas in my yard. Bummer.
Impressive guild website with updated links throughout. The Show and Tell & Guild Pictures are worth a look for inspiration.
Article in the Greene County Messenger about the quilt show held by the Greene County Historical Society and Museum that I spoke about. Story by Heidi Jo Wise.
http://www.greenemessenger.com/news_details/article/1775/2010/november/05/bquilt-show-brings-fabric-and-history-together-b.html
National Quilting Association Quilt Show, Columbus, OH June 15-18, 2011.
http://nqaquilts.org/2011show/
Here's a photo to reward you for reading through all those links!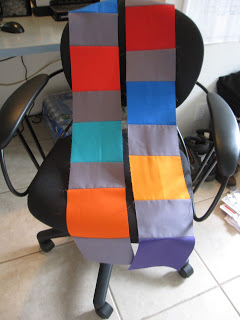 Beginning of a quilt for my son