Oh boy, what an experience! I got home a little while ago (after a stop at The Coffee Bean to get myself a well-deserved Hot Chocolate) from my first MRI
experience
. The claustrophia part wasn't the real problem as I kept my eyes closed and did my best to think about dinner ideas, my 2pm Econ test or fabric, etc., but making myself be
still
was the challenging part. At about 3/4 of the way through the 20 minutes or so that the test took, I almost lost it.
Was this (imagine an illustration of my fingers inserted here - I cannot draw so I won't pain you) close to shouting to the tech to stop the test.
Seriously.
Kept it together though and finished it hoping that the 20 minutes or so of the uncomfortableness was worth it to find out what is going on in my L5-Sacrum area which vexes me. I've never been one for easily explainable ailments so this one with my back seems to be par for the course. I can run, jog, play soccer, garden without a problem but when I sit for too long of a time or when I lie down (yea, sleeping is real fun) that lower left region of my back starts to scream at me. Why an MRI? Well, we (still) have health insurance and although I am not one to milk insurance of any kind, this has been going on for over two years now and Chiropractic care, tons of stretching and exercising and even a new bed have not changed my symptoms so therefore, an MRI.
So that is my back issue WIP. Now on to crafting!
Blockapalloza:
Finished Blocks Four and Six and have cut out the fabric for Block seven and eight and nine are look real pretty on the computer. I will do both but probably not do the appliqué on Block eight as appliqué scares me.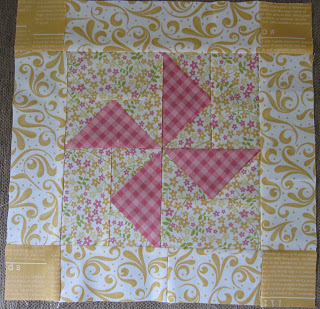 Block Four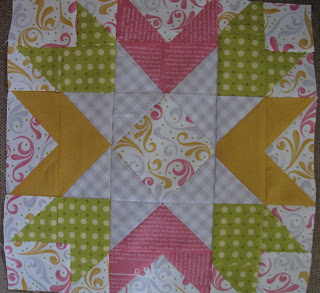 Block Six
When I got "Kona'ed" about a week ago, I immediately set out to cut six inch squares with most of those fat quarters for a quilt I am making for my older son. He began laying them out in a manner he liked then got bored so I finished it up. I needed a photo so that when I finished sewing the columns I would have a reference point. I'm sashing this with Kona Coal and so far I have sewn up two columns - I'll save photos for the big finish!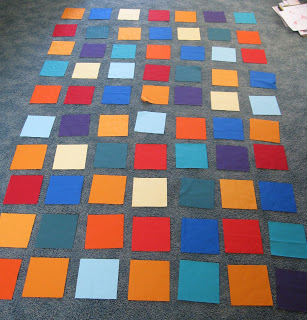 Quilt for Older Son
Other WIP's
Sliced Coins QA
School Yard Quilt
FQ 2010 Mystery BOM
No more I say! I'm not starting anything new until at least one of those items above get finished.
A few more gratuitous photos of what winter in So. Cal looks like: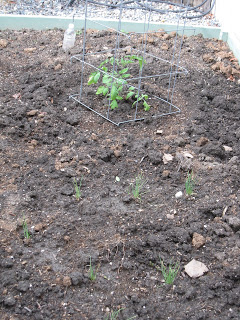 Looks kind of sad, but that is an Early Girl Tomato with onions in the foreground.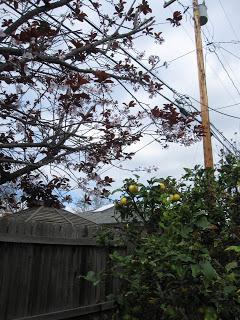 Flowering Plum Tree with my Eureka Lemon on the right. Nice electric pole, eh?
Off to study and come up with something
spectacular
for dinner. Ha!
Please don't forget to check out other great WIP's at
Freshly Pieced
with Lee. I can always count on some great eye candy there every Wednesday!
Ciao!