Work in Progress first:
#1 First is the Sliced Coins QA. Dreadful photo - I should have put these down on a sheet or something as my carpet is bluish/green (seriously - came with the house) but in person these coins look great! Didn't lay it out with the sashing yet.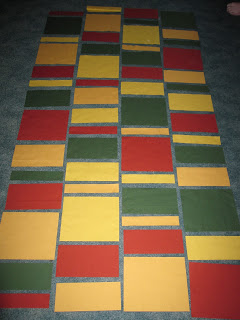 Sliced Coins QA
#2 Working on something fun for a teacher friend of mine. I had a charm pack and honey bun of the American Jane Punctuation line and I am making a quilt using the Square One pattern from
Camille Roskelley's Simplify
book. It is coming along nicely but I forgot to take photos while I had it out.
#3 About to start a XL Twin sized quilt for my older son. We finally bought him a XL Twin bed (the boy is way too tall for a Twin sized) and he has requested a quilt made by me! I'm actually thrilled and can't wait to make it happen.
#4 Blockapalloza QA - completed block one, cut out fabric for block two and looked at block three. Hmm.
#5 Fat Quarter Shop BOM - behind by three/four months. Another hmm.
#6 - organizing all of the above into an area the size of a shoebox!
Had a pretty rotten couple of days last week. Last Thursday night was my first education class for the SS Teaching Credential and so during the day I was a bit nervous - I always get a little anxious before first classes but then it passes and all is fine. What then added to that minimal stress was a texting fight I got myself into with a family member at about 4pm - two hours before class time. Not enjoyable one bit. Do any of you have a sibling that you have practically no connection with, but have always wanted to? Have always tried to but whatever you do it seems to never be right?
Two hours later at approximately 6:30pm, as the teacher is telling us how MUCH work it is going to be not only this semester but the entire credential, I started having doubts. Doubts about whether I should go for it, whether I could do it, etc. When I got home from school that night I burst into tears on the couch with my husband and poured out all of my thoughts. How can I put this credential program before my family whom I've put #1 for almost 15 years? Most of the classes are at night - family hates that. I need new clothes for observing in the classroom and student teaching! (Stay at home mom uniform for almost 15 years - do I have any work clothes? No.)
My husband was very supportive and helped to calm me down. Had another good cry Friday morning after the children were off to school and then righted myself. It was hard to have both of those events mingle in my head - I'm very sure that if I had not already been stressed out by my sibling then what I learned in class would not have mattered so much. Almost a week later now and I'm full steam ahead with the credential program and no where with the relationship with my sibling.
If you read all of that, thank you. I appreciate it. Here is a bonus for you: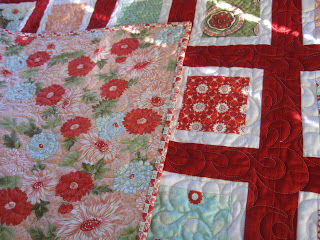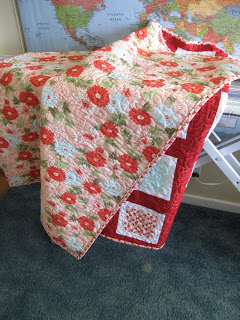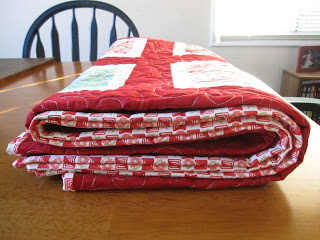 I finished the
That Girl QA
! Well, almost - I'm too scared to wash it! What if the Kona Red bleeds? Please any ideas on what kind of detergent I should use would be appreciated.
If any of you listed to my first
History Quilter podcast
, then Thank You! I am planning on recording another one this week and upload to iTunes.
Don't forget to check out what others are doing with their WIP's at
Freshly Pieced
. I know I will!