Did you watch the Academy Awards? I did. I am not much of a Television watcher but I do love to go to the movies so I do usually watch the Oscars. As my boys are getting older I am in that transition stage of not having to take them to movies (thank goodness - can't tell you how many times I have fallen asleep during a kid film) but also not having time to see the kind of movies I want to see. So of all the movies nominated last night I had only seen one movie. Guess I saw the right film - being a Colin Firth fan has it's benefits.
I'm finishing up my lunch of leftover Indian food I made the other night. Between Indian Food and Sushi I could live the rest of my life and be happy. Indian Food is easy to make as I live so close to a large Indian community (access to spices, etc.) but the Sushi - not so easy to make. A foodie friend of mine was out of work for most of 2009 and we used to go out to lunch every other week or so and have sushi - don't get me wrong we weren't living it up, but a local sushi place had a $9.95 lunch special that was out of this world. She found a job in early 2010 and so no more foodie lunches.
Made some incredible headway on the quilt for my older son which I have named Open Windows as my son always enjoys having his window open. His birthday is next week so I'm on overdrive to get this completed. The top is finished and now on to the back: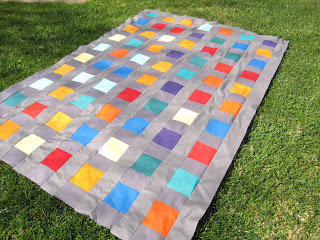 Open Windows quilt top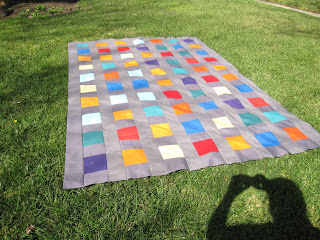 Open Windows quilt top
This baby is huge! My son told me he wanted black and white stripes for the back - 100inches x 6 inches and now after getting this monster together, there is no way the strips on the back are going to be that narrow. I'll figure that out tomorrow. I am going to quilt this myself with straight lines but I haven't come up with a pattern yet.
Ciao!