Although quite short at 5 minutes, this podcast was my first!
I spoke about going to see the Road to California Quilters Conference and Showcase in Ontario, California on Saturday, January 22, 2011. Web address for the show is
www.road2ca.com
. Next year the show is January 19-22, 2012.
Square One pattern by
Camille Roskelley
in her Simplify book. I've named this quilt School Yard. Fabric is American Jane's Punctuation Charm Squares & a Honey Bun. Kona white is used for sashing.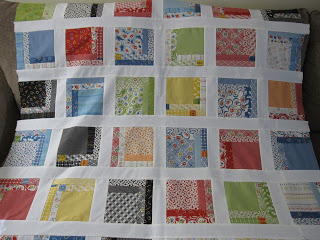 School Yard Quilt
That Girl..That Quilt, quilt along. Used Camille Roskelly's Bliss fabric and Kona Red and White for sashing. This was a great quilt along - please go check it out here.
http://www.thatgirlthatquilt.com/p/that-quilt-along.html
That's all for today!